Today we will have a walk-around of the 2021 Ford Bronco. This is a base Bronco with Sasquatch package. We will discuss some of its features, its appearance on the outside, and the different quirks it has inside.
Base Bronco Outer Appearance
Speaking of accents on base Bronco, you have a carbonized grille. It is a little bit more textured as opposed to painted grills on some other car models. The Bronco letters are painted glass-black. It looks great and gives a vehicle a steel feel. The vehicle also has a heavy-duty front bumper. It is an upgrade, the standard bumper is plastic.
As far as headlights, they are standard LED headlights that all Broncos come with. They are really bright and have an orange turn signal accent on both sides. The lights look premium.
The standard wheel and tire on base Bronco are steely wheel design, however, with the Sasquatch package you get the 17-inch bead-lock capable wheels with the 45-inch tires, and the raised suspension. With those base wheels and tires, you are getting 3.73 rear acceleration, however, with Sasquatch, you get an upgraded 4.7 rear acceleration. Additionally, with the standard wheel and tire, you are going to get M 1.90 front acceleration, but with Sasquatch, you will get an upgraded M 2.10 front acceleration. In the Sasquatch package, you have wider fender flares and they are movable. You also get trail sides.
Outside mirrors have standard plastic mirror caps. When you move the doors the mirrors stay on for added safety, even when the doors are off. However, one interesting thing to point out, if the mirrors are folded in, when you open the front door, it pushes it out. Just be aware of that. Mirrors move forward and back, so it is easy to move the doors.
Speaking about the top of the car, there is the soft top, which is the standard top on the base Bronco. You can also get the mick color hardtop as an option. So, to open the top, there are two latches on the inside, you squeeze them and then flip the top back. It doesn't lock but there are straps that you can use to hold it down. If you pull the latches on the back then the whole top comes back but to do that you need to remove the side and the back windows. So, there are two positions, which is nice and adds a little bit more flexibility.
Moving on to the back of the vehicle, you notice that on the base you don't have tinted rear glass. If you want to tint it you will need to pay extra for that.
Moving on to the tailgate, there is again the soft top, it doesn't flip up like the hardtop. Inside there is an accessory-ready panel where you can put a drop-down table, which is a really cool feature. There are standard tail lamps, which are more like halogen style
There is a plastic rear bumper, there is no upgraded heavy-duty bumper like in the front. There is a tow hook on the back left of the vehicle. It is kind of difficult to get and move around inside with the soft top. Inside the cargo area, there are the door bags: you can remove all four doors and store them all at the back. There are also the optional carpet floor mats that will come with your vehicle. You have a leap-up between the back cargo area and the back seats even though the back seats do fold flat. There are Sasquatch fender flares that are removable.
The door handles are mick color plastic door handles. They are not body color or gloss black. You don't have a keyless entry, you will need to use the key fob to unlock the doors. The base Bronco doesn't come standard with rock rails or tube steps but you can get them from your dealer as a Ford-approved accessory.
Inside Bronco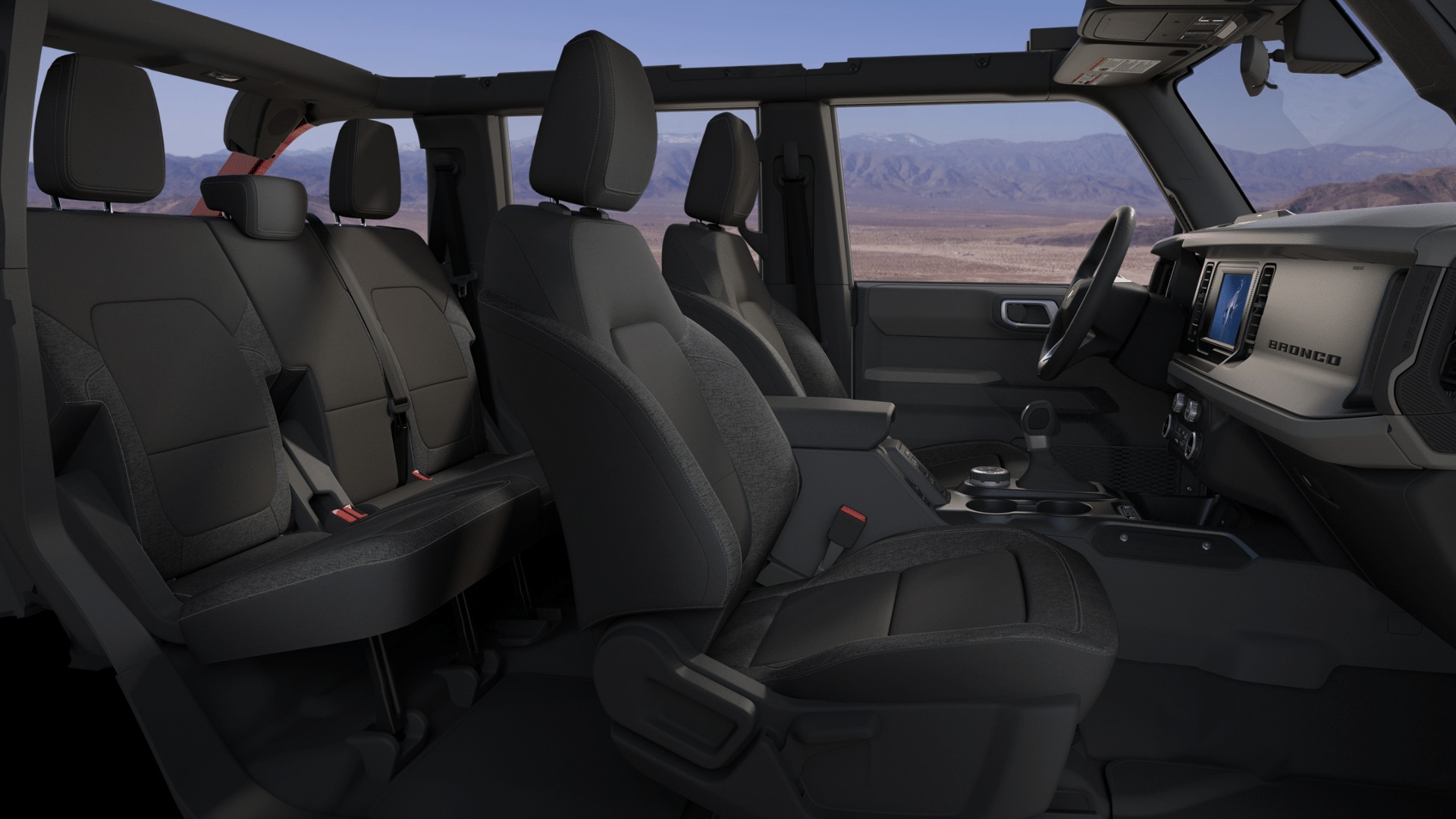 Inside the vehicle, there are cloth seats — black and gray. They look really nice and the material feels nice too. The seats are comfortable, they are not going to get too hot or too cold like with leather or the vinyl seats. They look and feel a lot more premium than you would expect. There is a 60/40 split with the rear seats, which fold flat easily. But when you fold the seats there is a little leap between the seats and the cargo area, so if you want to sleep here it is better to put a pad or a small mattress there.
There is enough room at the back, you have a lot of headroom as well. There are two window switches in the middle, they are one-touch up and down. There is also a USB A and C outlet back there for rear-seat passengers. Unfortunately, because the seats are cloth there are no drop-down cup holders, but there are door nets where you can keep a bottle of water. There is rear reading light but the angle is a little strange — directly over the middle seat, so it will be hard to read something especially if there is a passenger in the middle seat. And this is the only reading light at the back, there are no lights at the sides.
The vehicle has leather floor mats, they have a nice texture and interesting design. This is a great alternative to washout floors to ensure your vehicle will stay clean.
Moving on to the front seats, there are also cloth seats as at the back. There is an automatic transmission. Goat modes on this Bronco are a little bit limited to what you have on other Broncos. It has normal, eco, sport, slippery and sand mode. There are no road crawl or Baja modes. However, with the upgraded Sasquatch package you get four auto modes and trail control, which is great.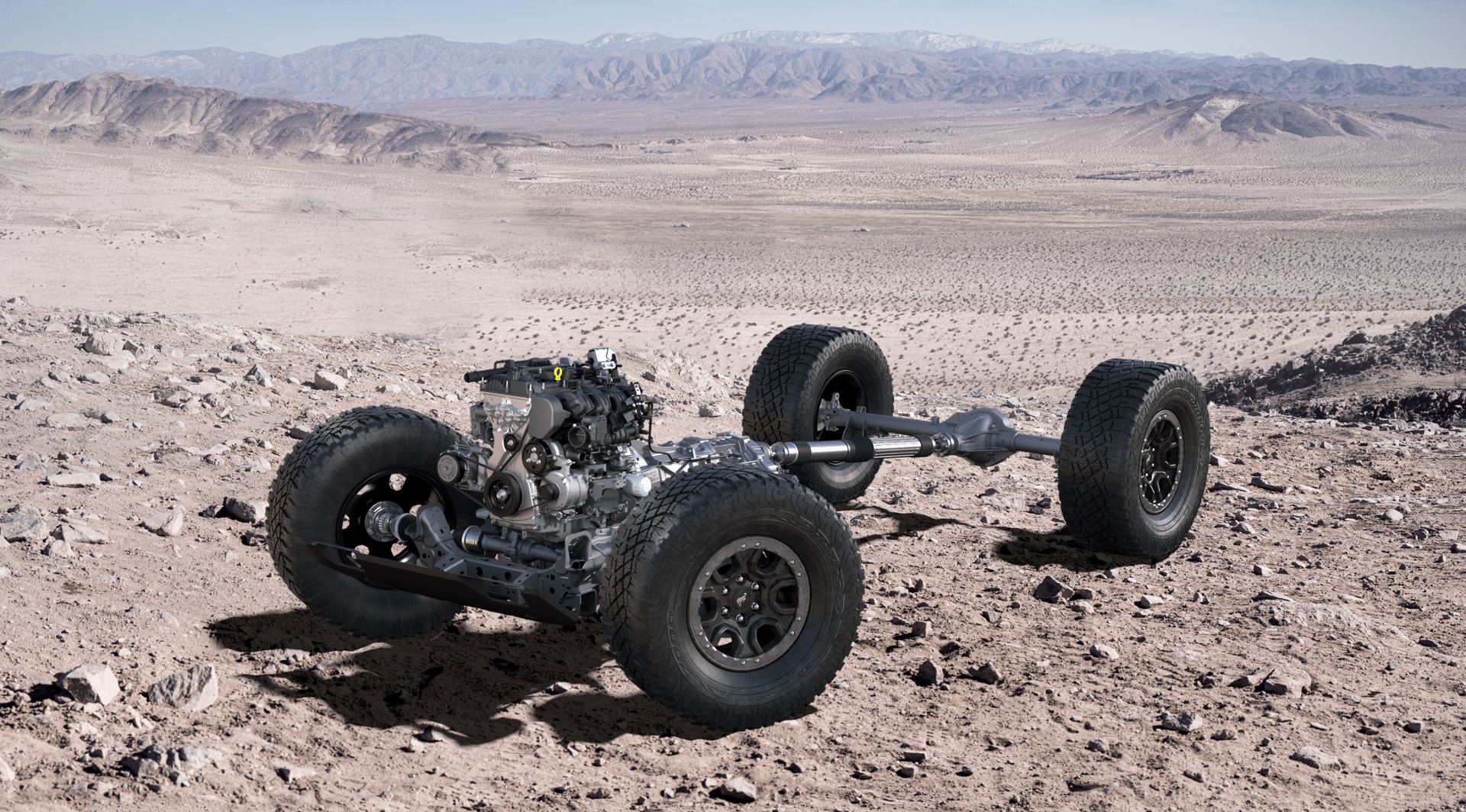 There are four window switches in the middle, and there is a window deactivation as well. There is no grab handle as in other Broncos, but there is a place for it so you could add it. There is also a USB C port and a little storage area where a phone will fit fine. There are also two cup holders, and these are the only two cup holders you get in this vehicle.
There is a dark panel with the Sasquatch package, there are front and rear lockers up there: trail run assist, traction control off, and hazard button. The base Bronco doesn't come standard with aux switches, but you can have them as an additional option. You also have visors that drop down with a mirror but the mirror is not lighted.
There is a center console like in other Broncos, which is lockable and wrapped in vinyl and it is nice for durability's sake. The glove compartment is also lockable. And in the glove compartment, there is a little Bronco took kit with different tools and accessories.
On the center stack, there is climate control. It is not automatic, just a basic hot and cold knob. There are a heated mirrors button and car re-circulation. There are volume knobs, a tune button, and of course, everyone's favorite, the auto start/stop button. Above the center stack, there is an 8-inch screen. There are all the necessary apps there. You cannot get a trail map on the base Bronco because the GPS technology required for that appears in the mid package.
The base Bronco comes with the standard equipment package that affords you a few different features. For example, you will get a manual tilt and telescoping steering wheel, a push-button start, standard LED headlamps. You will also get cruise control, and standard air conditioning, which is a nice feature to have.
So, this is our walk-around of the base Bronco. We hope you learned something new and we hope you enjoyed what you saw. Ford certainly delivers a great package of goods with the base model or the Sasquatch package. So if you are thinking about getting a new vehicle, we recommend you consider Bronco from Ford.