Today we're going to talk about Ford Performance Bronco with a lot of custom bits and accessories. We will do a walk around and tell you about everything that it has to offer.
Outside Bronco Ford Performance
The Outer Banks Bronco has a gloss black grille up in the front. Something that Ford added was a matte black wrapped hood which acts to cut down glare. So when you're driving down the road the hood's wrapped black, it cuts down the glare that's reflecting up and into the windshield.
The vehicle has Ford modular front bumper. The tow hooks are body-color painted, it's a cool little feature. There is the signature lighting that you can find on the Outer Banks models. It also has trail mounting points on the hood like on every Bronco. You can mount anything on those whether it's a CB radio antenna, a GoPro, limb risers. The aftermarket's going to show us what you can do with that.
At the side of the vehicle, there are a lot of bits and pieces that are added from the Ford catalog as well as some aftermarket pieces. So normally the Outer Banks Bronco is going to have color-matched fender flares unless it is a Sasquatch package, then you get molded color plastic black material fender flares.
There are also some aftermarket wheels and tires. They are 17-inch method wheels in a nice bronze color. And there are also some 33-inch Mickey Thompson Baja tires. These are not what you're going to get with the vehicle you can't get these from Ford but we think it looks cool to throw them on there.
At the side of the vehicle, there are a couple of pieces that were added, like rock rails and some rocker cover panels that are available in that Ford catalog. They protect the body when you climb in and out of the vehicle.
There are no doors on this Bronco and there is the soft top also. This is a Bestop twill soft top that folds back. It operates a little bit differently than the soft top that you would get with a Bronco.
There is a 17-inch method wheel mounted to the back. There is also a Bronco tailgate tow hitch cover. It adds five horsepower. At the back of the vehicle, there is a rear cargo organizer and a security drawer. It is a really sturdy metal box that is bolted into the rear so it's not going to slide around. And there are tie-down points on top so if you want to tie down cargo, you put a cargo net, slide underneath whatever you need and you can do that. It'll keep everything secure in the rear of the vehicle. It also has a slide-out drawer, which is sturdy, and heavy, obviously made of very strong and durable metal.
The mirrors, which are a body-color match for the Outer Banks, are attached to the front a-pillar and so they're not found on the door like they are in a lot of other vehicles. And therefore if you take these doors off you still get the benefit of having cameras on the side, having the mirrors to be able to see behind you, and blind-spot monitoring.
The Interior of Bronco Ford Performance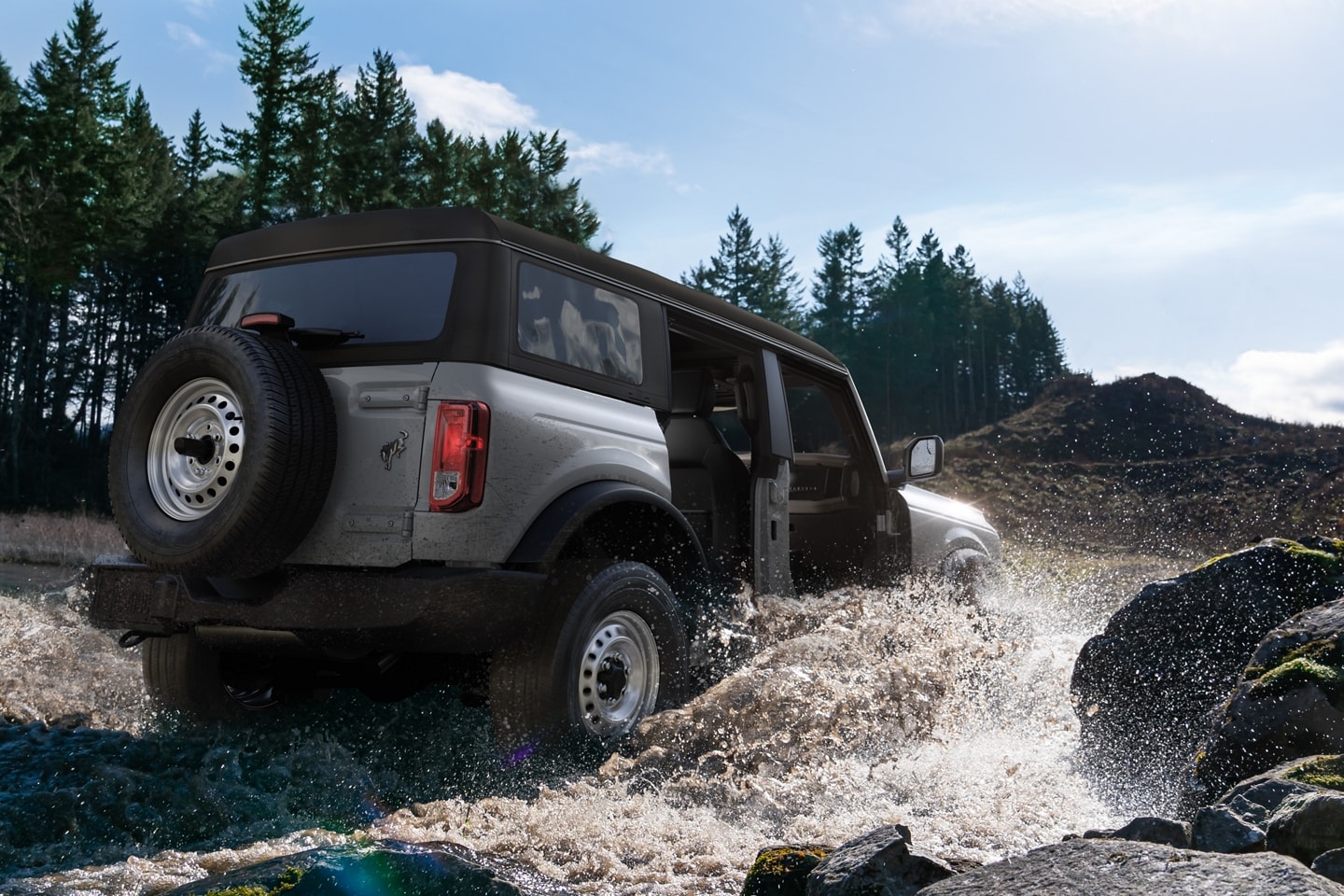 One of the first things that you're going to notice is the seat covers. These are not the stock seats that are in this Bronco. They're a roast leather color underneath. But Ford does offer these seat covers from their catalog. They are water-resistant durable seat covers that you can order to put over your seats.
This Outer Banks has the lux package that is why there are a lot of high-end features. There is a 12-inch screen that sets off the whole dash. You get wireless Apple car play, Android auto that is also wireless to control your music, navigation. There are also cameras. This Outer Banks has a 360-degree camera — two on the sides, one on the front, and one on the rear, and it creates a 360-degree view especially if you plan on going off-road.
There is the goat mode switch that will let you change your drive mode based on what terrain you're going through. There are also window control switches in the middle. They don't really matter if you've got the doors off. So if you take off the doors, you don't have all that technology. The Outer Banks comes standard with the 2.3-liter four-cylinder engine and the 10-speed automatic transmission. And you also can get the option to get the 2.7 liter v6.
On the front panel, there are a lot of our different controls. There is the standard dual climate control for either side. One thing to note is that there is a good grip on these dials and they are pretty big so if you have gloves on then it's still easy to access. There are also controls for the AC front seat heaters, which is awesome, and the camera controls. And because this is the lux package there is a wireless charging pad, so if you put your phone there while driving then it'll charge. There's also USA A and C port down there if you do need to charge another phone or don't have wireless charging. That's also a pretty good option.
Another thing to note on the interior is manually adjustable seats. There is the option for power seats. Looking up above, there's a universal garage opener built into the visor so you can connect this to your garage, and instead of clipping on one of those big ugly garage opener controls it's built-in. The sun visors have all the usual features — fold up, fold out, extend.
Inside, there are also the hazards, trash control off, and then the trail turn assist button. If you were to have a Sasquatch package there would also be buttons for locking diffs. Another cool thing about the vehicle is that it has a locking center console and it doesn't use a normal key. There is a combination lock here. Since there are no doors on this vehicle, and there is the soft top, if you have things that you feel are at risk or valuables that you want to stow away then you can lock them up.
Talking about the screen, there are a couple of different interesting features. There is the audio so you can connect to Bluetooth, to your phone, an auxiliary cord, USB, phone — add your phone and you can call people on the go, navigation. There is also the trail turn assist, which locks a wheel, and lets you turn pretty much on your own axis so if you're in a precarious situation and you need to turn on a dime, then you can turn on the trail turn assist and do that.
Another cool feature is the cameras. The cameras are a huge part of this vehicle especially if you're taking it off-road. They give you a lot of edge. There are two cameras on the side, one on the front and one in the rear and it stitches those together to actually see a 360-degree view of the vehicle when you click that camera button. There is also trail camera mode and you can see what's directly in front of you, it's very helpful.
Using the goat mode switch on the Outer Banks there are a couple of different options for drive modes. There is the sand mode, which is the farthest to the right drive mode, if you turn it to the left then you will get into mud and ruts mode, then normal mode, everyday street driving, eco mode, and then turn it left again and you will get into sport mode, and then left again — the slippery mode. Also on this goat mode switch, there are features for four low, four high, and then two high.
There are a lot of buttons on the steering wheel, like controlling the phone, controlling music, voice, speech, up and down controls, the ok button, back button, menu button. On the other side, there are all volume controls as well as the cruise control set and then increase/decrease. The feeling of the steering wheel is nice, it's like a rubbery material, and not just hard plastic like you would find on a lot of steering wheels. The steering wheel is heated as well.
At the back seats, there is a roast leather color on the interior. These seats are angled upwards so if you are sitting in the back there is enough room. There are power ports in the middle: USB A, USB C, and then a 110 volt AC outlet. So if you're out camping, leave the car on and you can charge whatever you need. In the middle, we've got the console center for window controls.
You can fold down the headrest — there's just a button on the side that does that. Once you fold down that headrest you can also fold the seat down, make a bigger and flatter rear area — there's a lot more cargo space in here. These don't fold all the way flat, there's a little bit of an angle here on these middle seats so it's something to take into account especially if you're camping. In the middle, there are fold-down cup holders that could work as an armrest as well.
On the floor, there are mats that look like vinyl flooring. They are great to have especially if you have kids. These have carpet underneath. You can take the mats out and clean them — they're easily removable, besides, it is all one piece.
So, this is the walk-around of the Outer Banks Bronco that was customized by Ford Performance. We hope that you enjoyed it and that will help you in the future if you are thinking about getting Bronco.