Today we're bringing you a walk-around of the Outer Banks two-door Bronco. This car has the Sasquatch package, and two doors, so we're going to get right into it and show you what this vehicle has to offer.
Outside the Outer Banks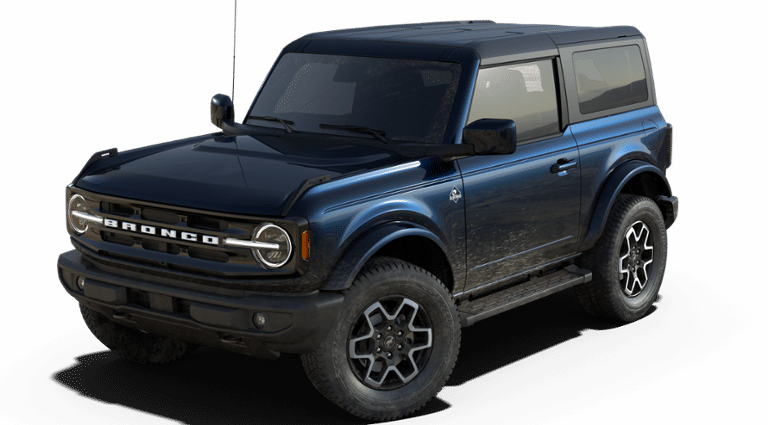 Starting up front, the Outer Banks series features a gloss black-painted grille with oxford white letters. It also has upgraded signature headlamps with the halo and bar that comes into it. It also has a safari bar. This has been redesigned to be elevated so you actually can see Bronco, which is great. The vehicle also has the heavy-duty modular front bumper which is an upgrade, it is not the standard bumper on Outer Banks.
To go with those standard 32-inch tires instead of these 17-inch bead-lock capable wheels you will get an 18 inch machined aluminum gloss black wheel, which looks really nice. While these have Sasquatch fender flares, the standard fender flares on the Outer Banks Bronco are going to be painted to match the body color. So if you do have smaller 32-inch tires with standard wheels you're not going to get water fender flares but they will match your body color if that's something you're looking for.
The Outer Banks comes standard with powder-coated tube steps on the side making ingress and egress a little bit easier for passengers who may be a little bit shorter or a little bit more mature or people who like a little extra help getting in their Bronco. It comes down about four inches from where the load floor would start so it certainly is going to give you a boost on getting up especially if you're on the Sasquatch package with that little bit of a raise in the suspension and ride height.
A little while ago, the Bronco team had reintroduced the badges on the side to incorporate the Sasquatch and this vehicle is no exception. Here, the Outer Banks badge says Sasquatch, then there is a little black Sasquatch hiding there down below as well.
Moving outside of the vehicle, the Outer Banks provides you with body-color-matched mirror caps. As we've seen before, there is intelligent keyless access: you slide your hand behind the handle or you can just tap it on the front and the vehicle will open. Since they are frameless, the windows pop down about an inch.
The vehicle has the mold and color hardtop or the mid-card top in carbonized gray color. This is going to be the only hardtop available at launch. If you're looking to get the modular shadow black painted top it is going to be a late availability and not available until the 2022 model year. This Sasquatch has a roof rack that you can't get from the factory, this is going to be an aftermarket Ford-approved accessory that you can get from your dealer.
Another thing to mention about the molding color hardtop is that Ford has improved the appearance of it from the early pre-production unit. This hardtop looks better: the grains are a little bit finer, the color's a little bit darker and it just looks like a more premium product.
Another interesting thing to note is that the gas fuel area has been redesigned. It still has the easy fill system as with most Ford products but it's encased in rubber now. It's a little movable. We are not sure if this will stay but it's something that could make its way to the final production Broncos.
Moving around back, of course, there is intelligent keyless access back here as well but with the lock and the unlock. There are a few bags in the cargo area. These are going to be bags for the two front roof panels which can fit back here. There are also door bags. Of course, as with all Broncos full size, the doors are removable. However, a differentiation between the two-door and the four-door is that the four-door doors can all store in the back due to their shorter length but because two-door doors are a little bit longer and they're too wide to fit in the cargo area, while you can put them in these door bags you cannot store them on board.
As with all Broncos, there is an accessory-ready panel back in the tailgate to add a flip-down table or a whole host of accessories that Ford approved. Tailgate can open between 90 and 150 degrees which is great. Additionally, because the flip-up glass has the window washer fluid and the defrost or the heating elements there are little ports over here that plugin. The taillights on the Outer Banks are the upgraded LED tail lights in addition to the premium headlights. So, there is the amber insert and then the LED surround.
Built into the bumper, which is a plastic material, there are 360 parking sensors. There are four along the back that tie into the surround parking sensors that this vehicle does have in addition to the 360 camera so you don't hit anything backing up or going forward in your brand new Bronco.
Inside the Outer Banks
Outer Banks has the most interior options available: you have two leather and two cloth options. What's cool about the cloth seats on the Outer Banks is they feature a ribbed texture or ribbed inlay similar to the ones seen on classic Broncos. There is a navy color with a medium gray accent on the seats. There is a dark gray IP topper and then gray silverish inlay as well. So it brings the whole vehicle together.
Moving to the center console and the center stack, of course, there is the vinyl-wrapped armrest as we've seen in all the other Broncos. There are window controls and mirror controls as well. Goat mode's dial is in the center, and right in front of it, there is a gear selector. There are two cup holders, of course. In front of it, there is a Bronco badge designed and engineered in Dearborn Michigan, built at the Michigan assembly plant. And right in front of that, there is the tech hub or charging hub. So, there is a wireless charging pad, which is great. It accommodates even the largest phones. In front of that, there are USB A and C ports to charge whatever device your heart desires. Above that, there is climate control. You have dual-zone automatic climate controls, heated seats — both front driver and front passenger, as well as a heated steering wheel. Above the climate controls there are the
infotainment controls: volume and tune knob, reverse, play-pause, and skip forward. There is also a camera button, which is great because you can click that and see a full 360 view of your Bronco. There is also an auto start-stop deactivation switch and parking sensor deactivation switch.
There is a 12-inch infotainment screen running sync 4 which is nice. Here there are audio, phone, navigation, apps, settings, and features. Of course, all the standard stuff but it's just in a new cleaner look with a few more features over sync 3. Above that, as with all Broncos, there are hero switches. Because it's a Sasquatch there are front and rear lockers. There is also trail turn assist traction control deactivation and hazards.
Up on the dash, there is the BO play audio system, this is the upgraded audio system from the standard one. There is also a power port up here, one more USB-A and one more USB-C port. There are also mounts for the 'bring your own device' rail, which will be available as an aftermarket accessory. There are also an auto-dimming mirror, map lights, reading lights, and six box switches. There are also all latch points. Two panels at the top are separate and they are both removable. You can remove both or just one of them. To take the back cap off you will have to remove the roof rails and it is a little bit more of an involved process using some of the tools provided to you in your Bronco tool kit that will come in the glove compartment of each Bronco.
The backseat passengers were not forgotten about either when it comes to power and connectivity. At the bottom of the center console, there is an ac 110-volt house style outlet as well as another USB and USB-C port bringing the total number of USB A and C ports to six.
Because this is the hardtop there are wiper fluid and electronics for the defrost controls plugged in back here. There are two ports — the electronics one and the wiper fluid one. In the cargo area, you will notice the load floor is carpeted. There are also anchor points for the child seats and then on the right, there is a light to illuminate the cargo area — a 12-volt outlet.
It's not very much storage space at the back but if you fold down the seats you will be able to fit a bit more obviously. But it is sufficient for picking up a few groceries or carrying any supplies you need out
on a daily trail ride.
Talking about the power train options on the Outer Banks, it is only available with the 10-speed automatic transmission, however, it is available in both the 2.3-liter four-cylinder and the 2.7-liter v6 engine.
Summing Up
The Outer Banks is the trim series that's packed with a ton of creature comforts. Ford has built it as a vehicle that's perfect for a daily driver and also for a little bit more adventurous activities on the weekends. For example, maybe you have a daily commute to and from work Monday through Friday but on Friday afternoons you like to hit the trails and go camping. Outer Banks is the perfect vehicle for both on-road and off and we see that all over the interior.