In this article, we will have a walk-around of a 2021 Ford Bronco. There are lots of cool things, a ton of different features, some optional some, standard. We're going to talk about the price point, the drivetrain, and some interesting quirks of this vehicle.
Peculiarities and Features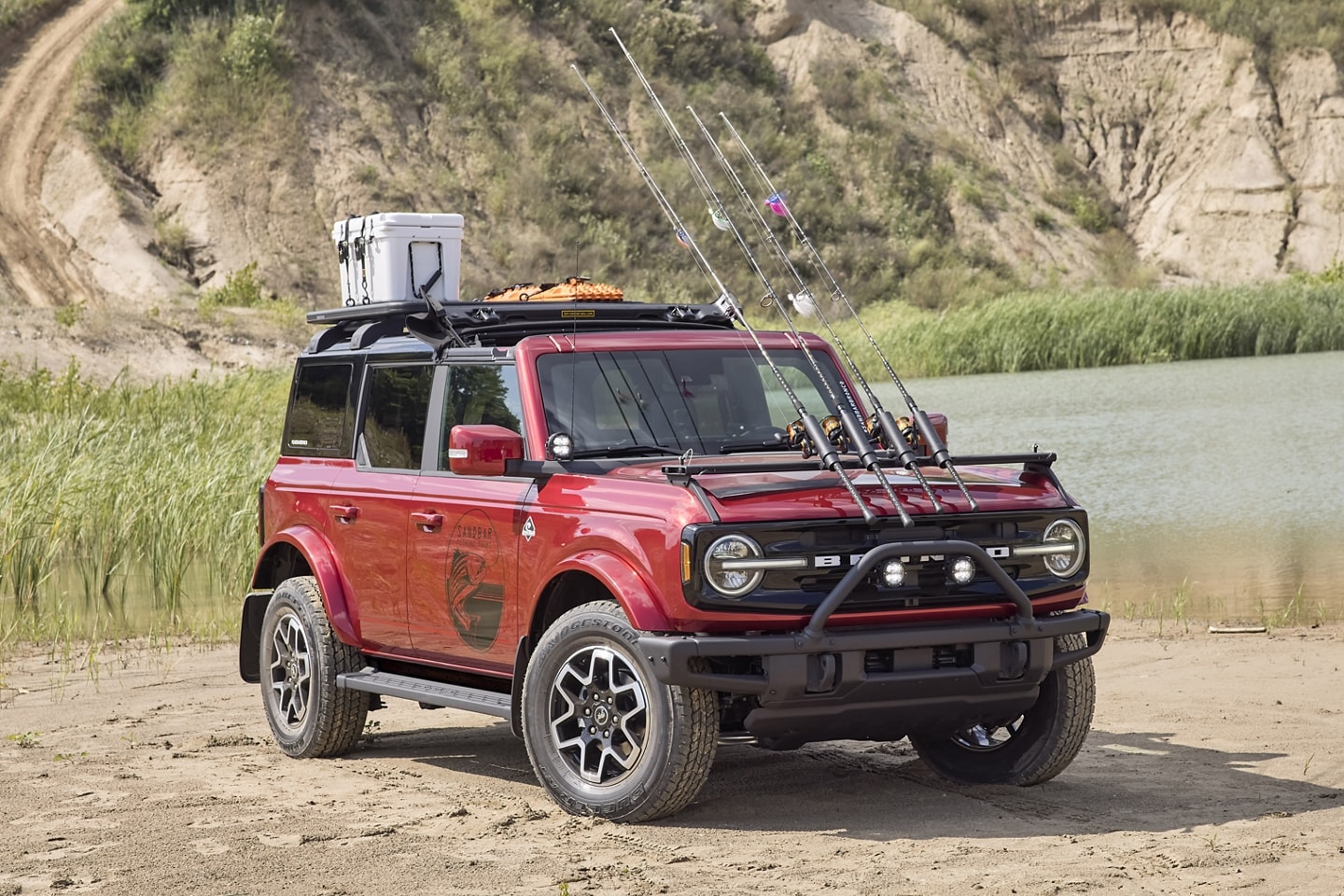 The first thing we want to address is what are some of the things you get when you order the WildTrak. And first off, that is the glossy black or the painted black grille. There are about 128- 120 openings here on the grille. You also have the gloss black painted mirror caps and eventually once they become available you'll be able to get the gloss black modular hardtop as well. Unfortunately, at launch, you can only get the mick top but gloss black painted modular hardtops are coming. This is a neat accent that can differentiate WildTrak from your Badlands.
On the other side, you also get the painted gloss black 17-inch wheels with the painted gloss black beauty ring. WildTrack comes standard with a Sasquatch package so you get the 17-inch bead-lock capable wheels with the 35-inch tires.
This vehicle is geared a little bit more towards Baja racing — fast, through the desert. It's not meant necessarily for rock crawling and wheeling as people call it. But it is meant for bashing through the desert, more Baja-style racing. It does have sport mode and Baja mode as opposed to the Badlands, which has rock crawl mode instead of sport mode. Those are just some differentiations to keep in mind when you're ordering your WildTrak.
Talking about the appearance of the Bronco WildTrak, there are the signature LED headlamps. They look fantastic. You will also get a WildTrak hood graphic. There's been a bit of controversy: some people love it, some people hate it, it's a bit polarizing.
Another thing you get on WildTrak is the body-colored handle. You have an easy entry, easy access button here so if you have the key in your pocket, the intelligent access key that Ford provides, just put your thumb on this lock and unlock button and the doors pop open. Because these doors or these windows are frameless you have a bit of an issue when it comes to the window glass. It slides right into the trim but if the window were not to pop down it'd smash into this trim and damage the window or the trim. So when you pop the door open the window drops about an inch or two, and then when you close it, it pops right back up both to protect the glass and the trim. There was some talk early on because these windows in the early prototypes didn't pop down and so people would worry about wear and tear and water getting in but it seems Ford has addressed this issue with these windows popping down which is nice to see.
As with all Broncos, all four doors are removable and can store right in the back. Continuing with WildTrak, there are the fender flares that are removable but they are in carbonized gray. We noticed a difference in the carbonized gray on the mick top: the color seems to have changed now from the early prototypes, like the camping edition. It appeared the grain was a little bit larger and the color was a little bit lighter. A lot of people were really excited to see that it seemed the quality of the appearance had improved and it matches these removable fender flares a lot better now. So something to keep in mind: if you're getting an early WildTrak when the modular glass black hardtop is not available and you want to get a mick top they are going to match your fender flares a lot better. Again you will get the wider fender flares because you have the Sasquatch package so that all ties in together. The last thing in the appearance, there is the gloss black pony badge.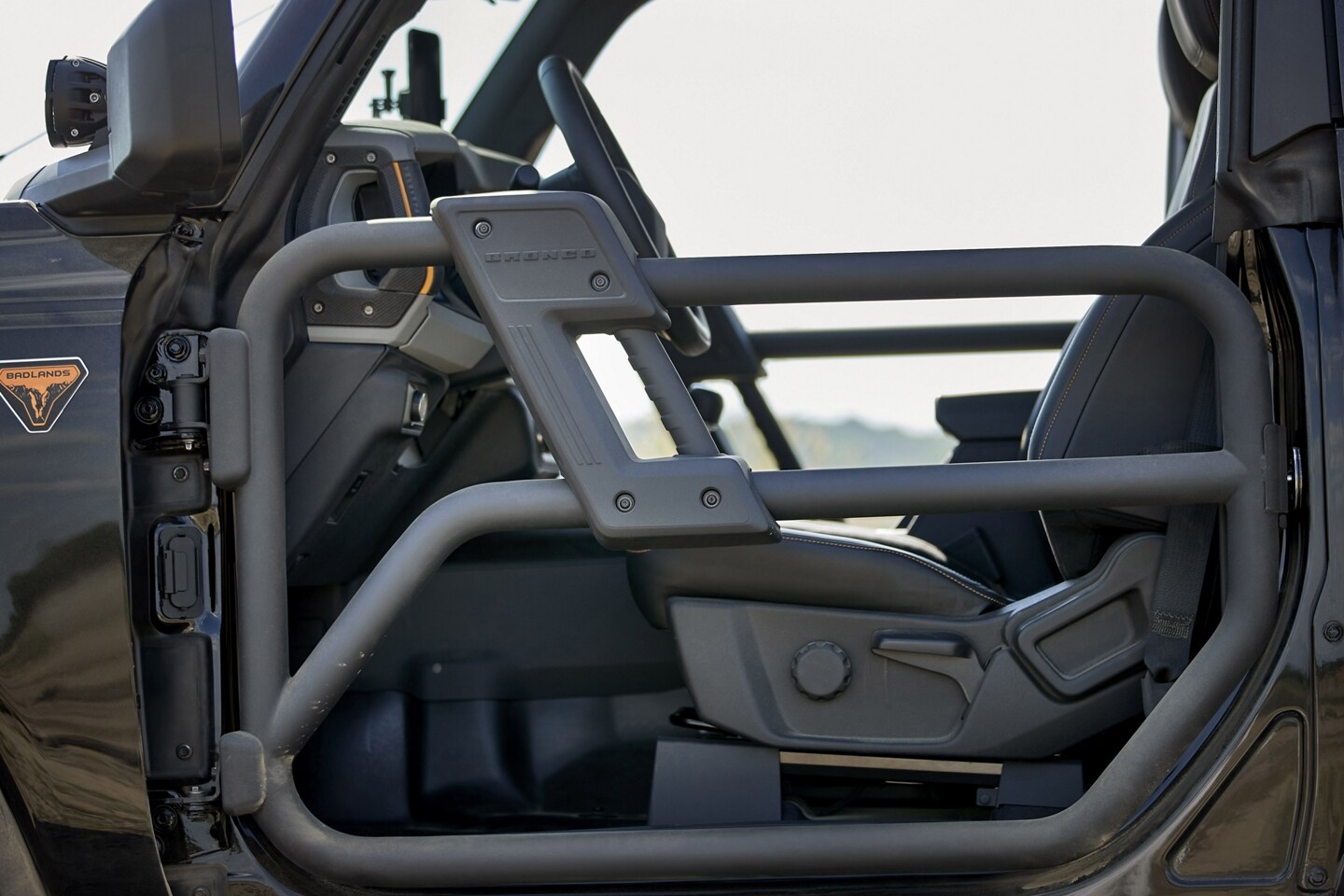 At the back of the vehicle, there is intelligent access to the intelligent key so if you have a Bronco key in your pocket and the car is locked you can just put your thumb here, the car unlocks, tailgate swings open without having to click the unlock button. There are two positions for this tailgate: there's a 90-degree position, and then it can open up all the way to about 150 degrees allowing you to get in to load stuff easily with this tailgate out of your way. Also, you can store all four doors at the back. There are nice door bags and then there's a matrix strap system — you can put them all in here to make sure they're secure and safe when you're on the trail so you don't have to strap the doors, chain them to a tree or leave them in your garage. It allows you to be adaptable to the weather, to the conditions, if you're off-road and then you go on-road, whatever scenario you are in.
There is a bit of a bump between the rear cargo area and where these seats fold down. This WildTrak comes standard with carpet, you don't get the wash-out floors. This is carpeted, the back of the seats are carpeted as is the load floor. There is a roadside assistance kit here: a scissor jack, an emergency fuel flow, and other little roadside accessories. Also, there is a little bit of a storage area here if you want to put something so it doesn't roll around, or some muddy boots. This WildTrak also has the upgraded Bang Olufsen play audio system that comes with 10 speakers. There is also a 12-volt cigarette lighter back here, a little Bronco light to illuminate the area with the Bronco emblem on it which is cool, and four lasso attachments that you can strap your doors into or if you have a cargo management system. They latch really easily.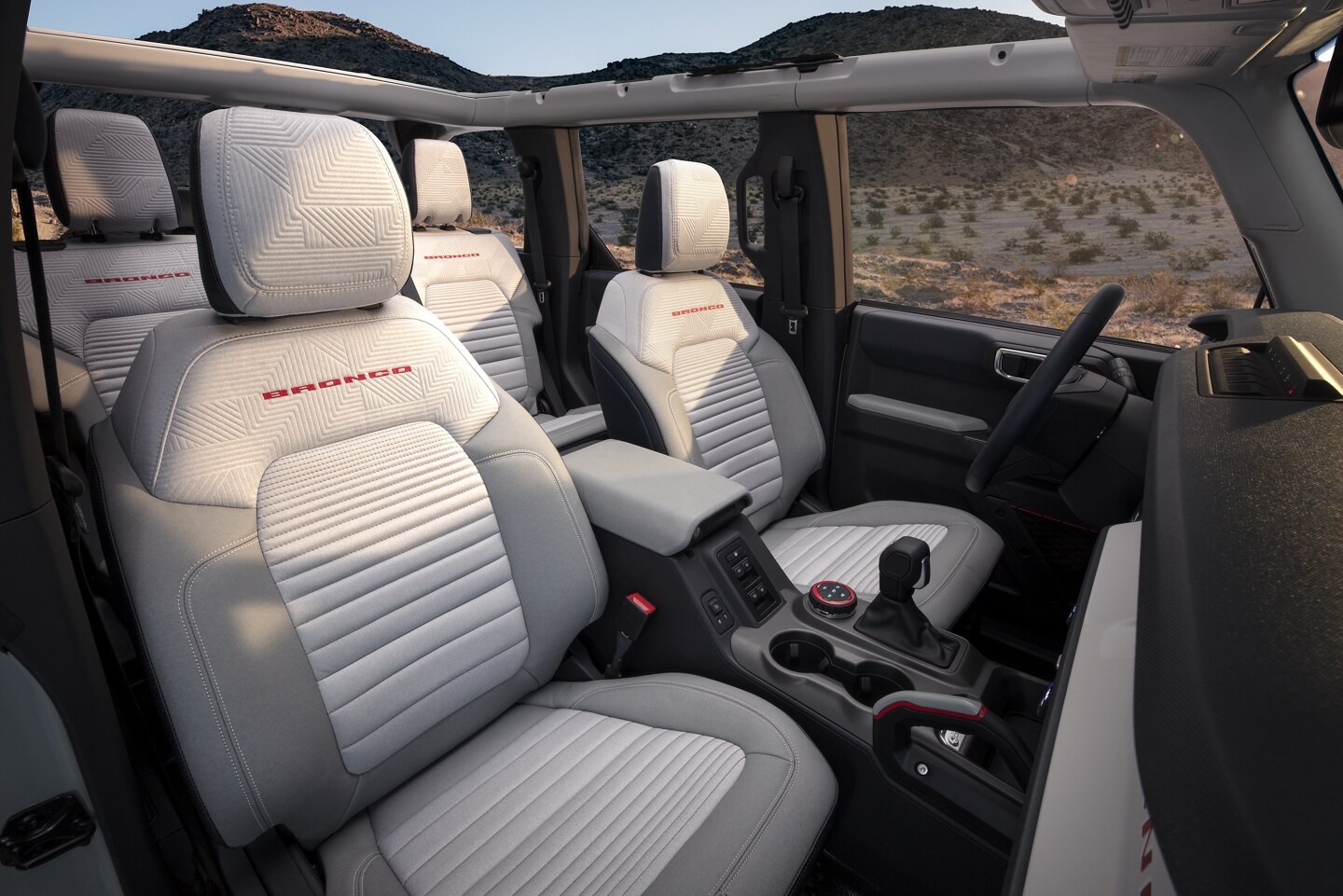 Another quirk Ford put in here is on the top of the gas cap area, the fuel area: there are three depictions of early generation Broncos which is cool a nod to the heritage of this vehicle, where it came from, and where it's going. Another thing to mention, like all Ford vehicles, there is an easy fuel system. Ford thought through everything and the easy fuel certainly makes your life easier.
Continuing on to the interior, there is the sandstone leather option on the WildTrak. There's also an optional digitized camo cloth that's dust hiding, which is a bit controversial. It looks nice inside the vehicle, it feels premium, the leather feels nice. There is also a drop-down center armrest with two cup holders, which is great.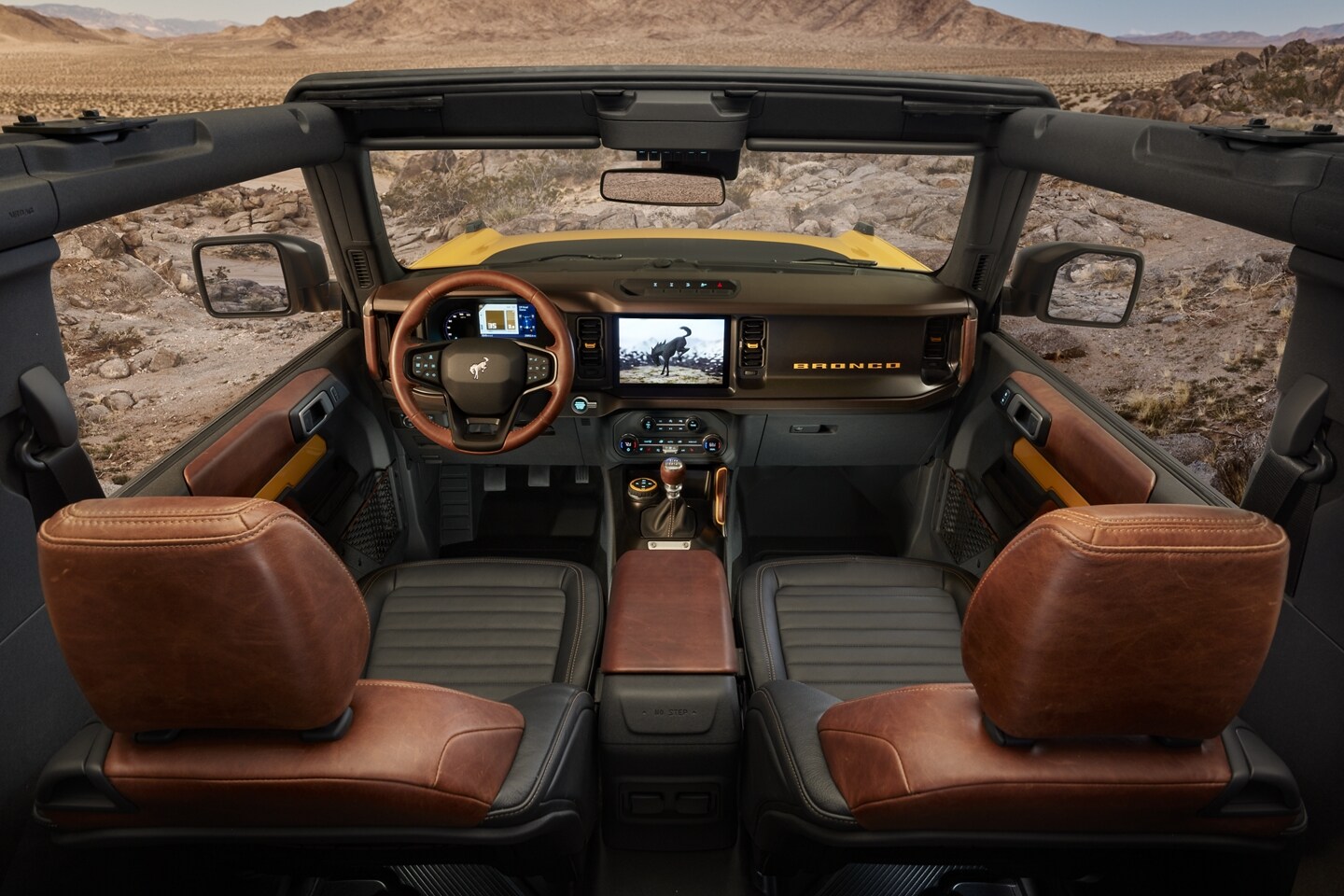 The seat in front is adjusted for someone 6.1 feet sitting at the back, there is plenty of knee room, at least six inches. Thanks to the top-off the headroom is unlimited but with the top on there are still solid five to six inches of headroom, which is nice. The seats almost feel like they're in a stadium seating configuration, so you sit up a little bit higher and have a nice vantage point out the front, you can even see over the hood. These seats are really comfortable. The bottom is a little pitched up so it lifts your thighs, so it is a bit more comfortable than if they were flatter, so you don't feel like you're scrunched in here.
There is the USB A and C port and 110 standard house style outlet, and window up and down switches, which is great. To fold the seats down, there is a little button that flips the headrest forward, and there's a latch on the back of the seat, which makes it fold down. It's a 60/40 split here. There are little flaps for the seat electronics. There is a bump about four to five inches so if you're going to sleep you might want a little extra pad to put here to make it a level surface. You can put an adult or two back here. It may not be the most comfortable night's sleep but you could certainly do it.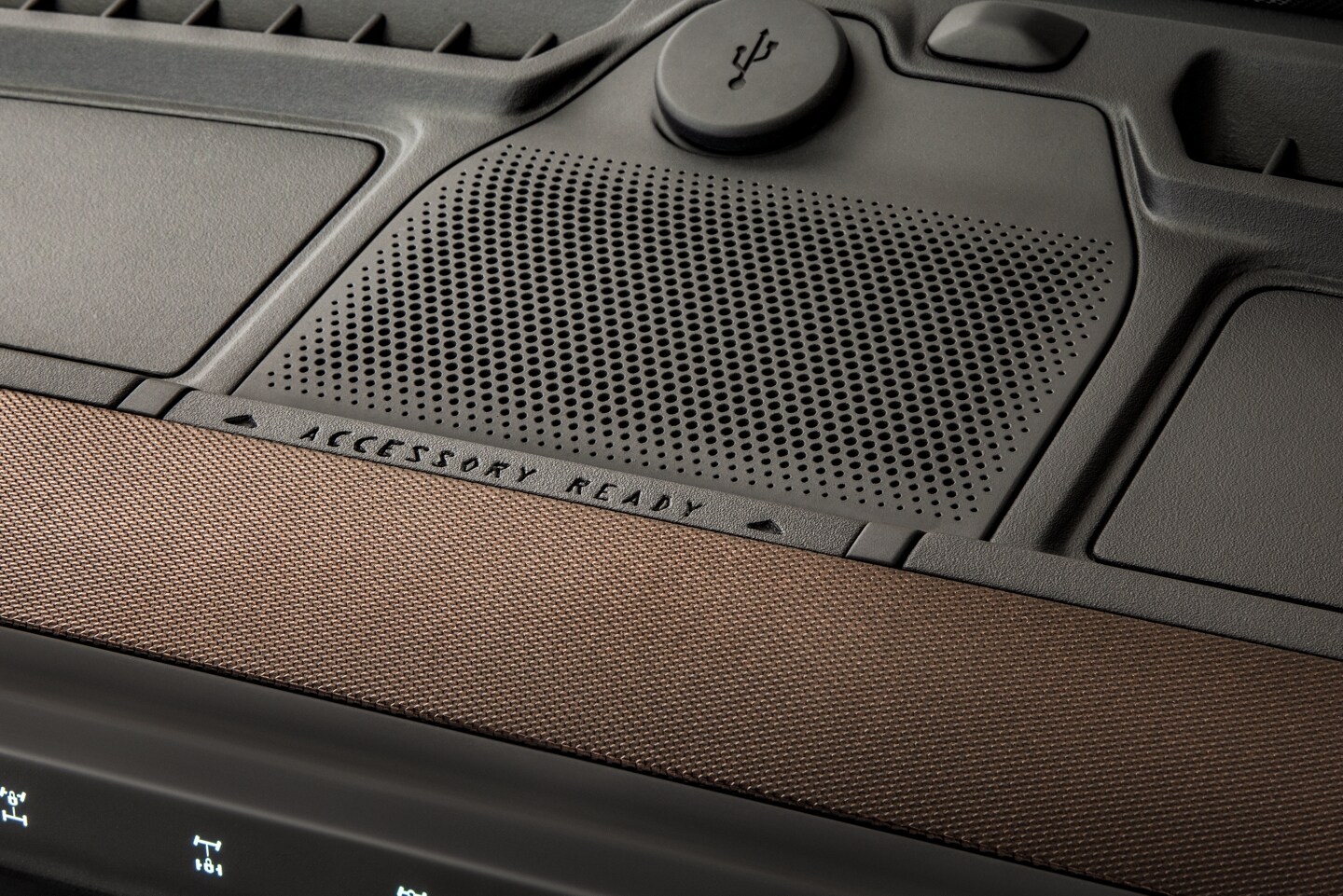 At the front seat, the WildTrak has a standard package with an 8-inch screen and a high and lux package with a 12-inch screen. The 12-inch screen looks fantastic. There are off-road features, you can see pitch, tilt, and steering angle. You also have cameras which look fantastic on this huge screen. There are multiple different angles: a wide view like a fisheye out the front, you can see general front, and then there is a 360 camera. The cameras activate automatically in certain modes, for example with Baja mode, you switch it and the front view camera automatically turns on so you can see where you're going. It doesn't have rock crawl mode but on vehicles that do have the rock crawl mode, there's a tire view because the cameras are mounted under the mirrors looking straight down at the tires.
With the high and lux packages, you get dual-zone automatic climate control, which is nice, there are both heated front seats and a heated steering wheel. There is also a wireless charging pad which is great, USB A and C ports, two cup holders, four window switches, child or window lock, weatherized mirror controls, and hero switches. Because this is a WildTrak, there is no sway bar or stay bar disconnect. At the top, there are front and rear lockers, trail turn assist, traction control-off, and hazard switch. These switches are encased in rubber and the tactile feel on them is nice. Ford did a fantastic job.
Up in the front, there are six off-switches that light up when they are engaged. There is a sunglass holder, map lights, visor lighted mirror on both sides. The floors in front are also carpeted and not a washout. Another thing to mention is that the steering wheel is leather-wrapped. There is a Bronco emblem in the middle, and on the left and the right, there are controls: adaptive cruise control, volume controls, sync voice activation button.
There is a 10-speed automatic transmission paired to the 2.7-liter v6 twin-turbocharged engine upfront. There is a latch that you pull and a hood prop — nothing too exciting. With WildTrak you get standard skid plates or you can get the upgraded skid plates. Also standard are LED fog lamps. The brush guard is an optional upgrade, you need to have a heavy-duty modular front bumper to get the brush guard so this is an optional feature. You get two heavy-duty tow hooks in the front and one on the back as standard, and there are 360 parking sensors built right into the bumper, which is nice.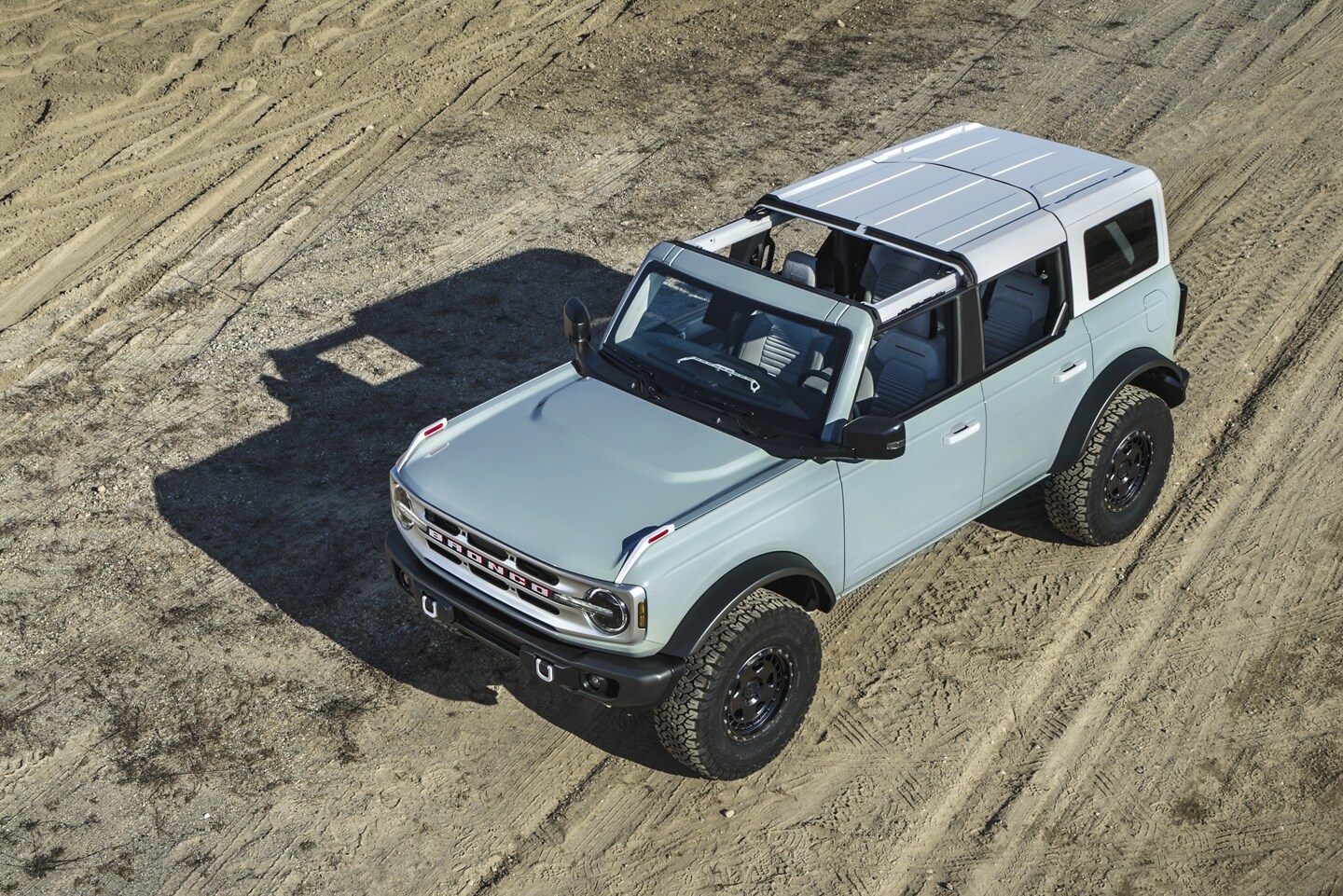 One more thing on the exterior appearance: you do not get the rock rails or the rock sliders like you can get on Badlands. You can get them as an accessory from your dealer after taking delivery but not from the factory. However, you can get the tube steps to step up into the vehicle as an accessory from the factory.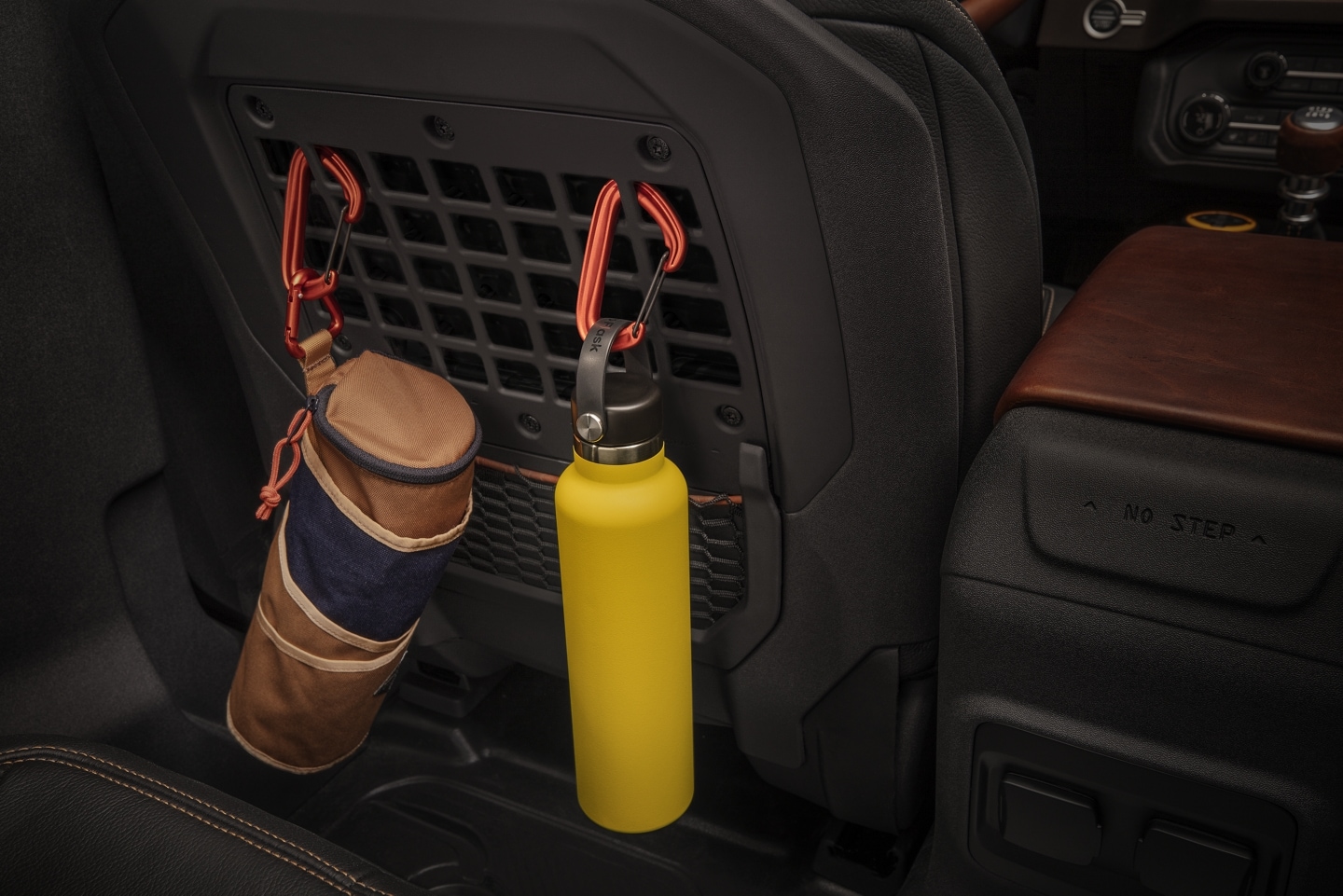 There are a couple of other features that come standard on the WildTrak that have to do with safety and convenience. There is pre-collision assist with active emergency braking. So if you're coming up on a car too fast and you aren't paying attention the vehicle will warn you and then if necessary apply braking to save you from rear-ending somebody. You also get the bliss blind-spot monitoring information system, and there is also lane keep assist which is cool: if you start to drift out of your lane and don't quite notice it the vehicle either alerts you or based on the settings will nudge you back into your lane. This is an added safety blanket when you're driving down the road so you don't damage your vehicle.
Pricing
While it is the most expensive Bronco since the first edition, but those are sold out, it's not the most capable so that's something to keep in mind. And the reason for the price differentiation is because of the standard equipment it comes with. It comes standard with the Sasquatch package, with the 2.7-liter v6 engine tied to the 10-speed automatic transmission, and a few other standard features. So while it doesn't have rock crawl mode, for instance, it doesn't have the rock rails or the rock sliders like the Badlands does, it is more expensive because of those standard operating equipment.