If there's one thing that the Ford Bronco brand is well-known for, it's the many accessories that they offer for all the enthusiasts.
With the right kind of accessories, drivers can create their dream off-roading Bronco. And now, the Built Wild SUV brand is just all enthusiasts need to do so. In an attempt to increase the off-roading experience of their drivers, Ford has come up with different accessories in the Interior, Exterior, Electronics, and more.
In this guide, we will look at the different accessories you can buy with the Ford Bronco Built Wild SUV. There are over 200 products that you can choose from and create your off-roading experience. Let's take a look at them according to their categories.
Bronco Outfitters Packages
There are different dealer-installed packages that you can choose to go with your Bronco Built Wild SUV, depending on the adventures you're planning on going on. They include:
Camp Package: If you're planning a lot of camping trips, this is the right package for you. It includes tents, swing gate tables, crossbars, pod lights, and others you might need when going on a trip.
Wheeling Package: Another one is the Wheeling package, with pod lights, roof-mounted platform, light bars, recovery boards, and recovery kits.
Snow Package: If you're someone who likes off-roading in snow, this package offers pod lights, cargo boxes, snowboard carrier or roof-mounted ski, and other accessories.
Water Package: Planning adventures related to water? Enjoy the kayak carrier, swing gate table, paddle holders, awnings, seat covers, and more in this package.
Bike Package: Off-roaders that enjoy biking will like this package, which features crossbars, a small basket, an air compressor kit, and a roof-mounted bike carrier.
Open Air Package: You want to spend a lot of time outdoors? This package includes mirror-mounted pod lights, Powersports soundbar, Bimini top, and tube doors.
Bronco Cargo Accessories
If you want to add some fittings to the cargo area of your Built Wild, you can choose from one of the different accessories in this section.
When it comes to Cargo Organization, it's important to check which model they are ideal for. The Cargo Area Enclosure, Fixed Lid is meant for two-door and four-door models, and allows you to properly secure gear at the back of the SUV, and has a vehicle top.
Next is the Cargo Area Trunk that is perfect for locking emergency gear and is ideal for two-door Broncos. The Cargo Area Enclosure, Deluxe Raised Lid is for four-door Broncos and is the same as the Fixed Lid. The Cargo Area Security Drawer features a sliding drawer that your gear can slide into, and is meant for four-door Broncos.
Depending on what you need in the Lines & Mats section, you can have different fittings. They are all ideal for two-door and four-door models. For instance, the table for the swing gate is ideal whether you're working or playing. Then, you can protect the flooding area with stain-resistant cargo area liners or protectors.
There is also the cargo area rug for two-door and four-door models, and the cargo net that you can use to stop packages from being loose in the cargo area.
Electronics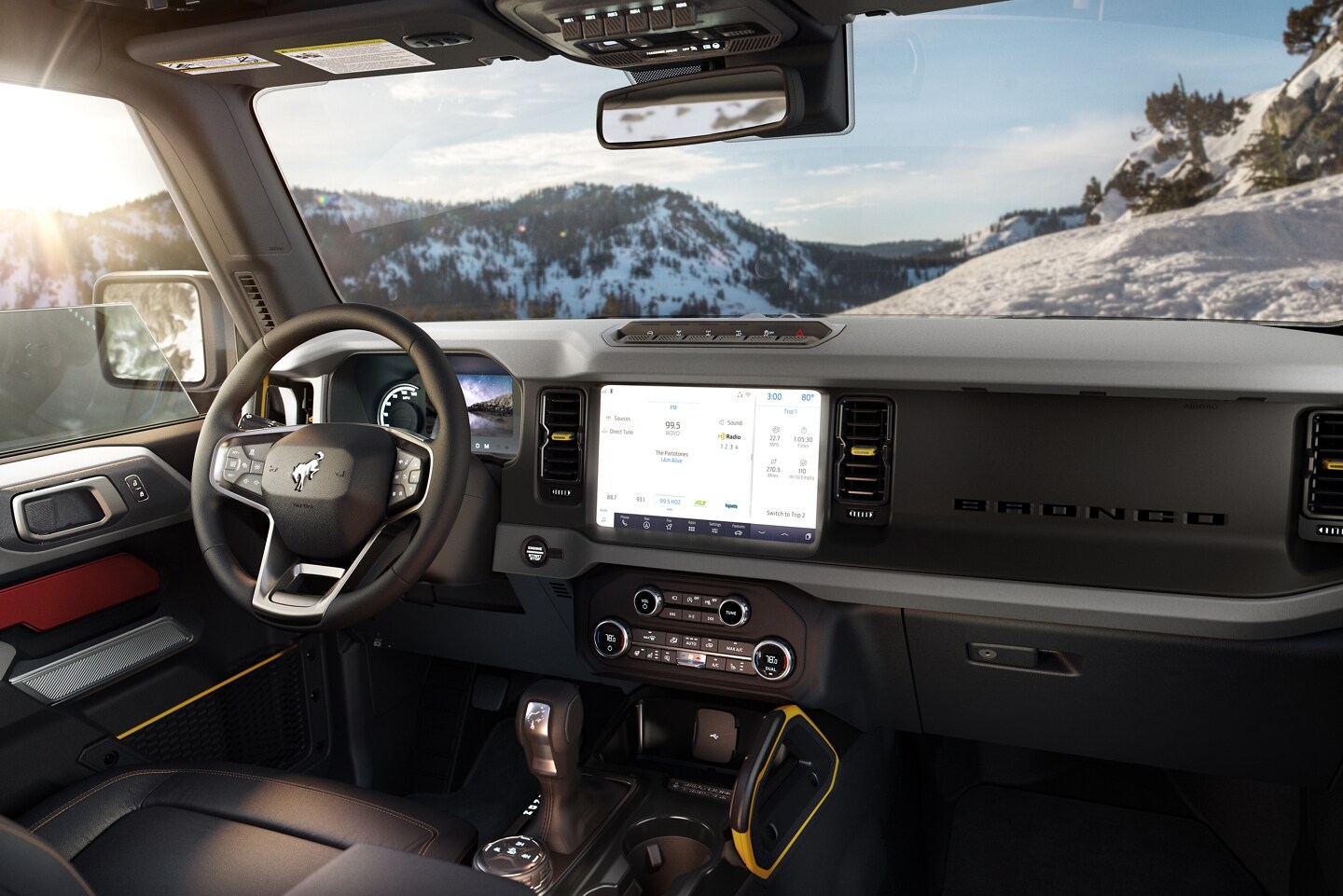 For two-door and four-door, Bronco Built Wild models, there are different electronics you can add to your car for better technology. If you want high-quality audio performance, the Powersports Soundbar is a good choice. Then, for action, while driving, the Dash Cams are available for fittings.
The Portable Rear Seat Entertainment offers tablet-style entertainment, while the Remote Start Systems offer convenience in your SUV. You can also purchase the Keyless Entry Keypads to add to your car, and conveniently unlock your vehicle. The Ford Perimeter Plus Vehicle Security keeps your car safer.
There are also electronic accessories made in comparison with Rigid, like a mirror-mounted off-road light kit, roof rack mounted off-road light bar kit and roof-mounted off-road light bar kit. You can also get Underbody Lights.
Exterior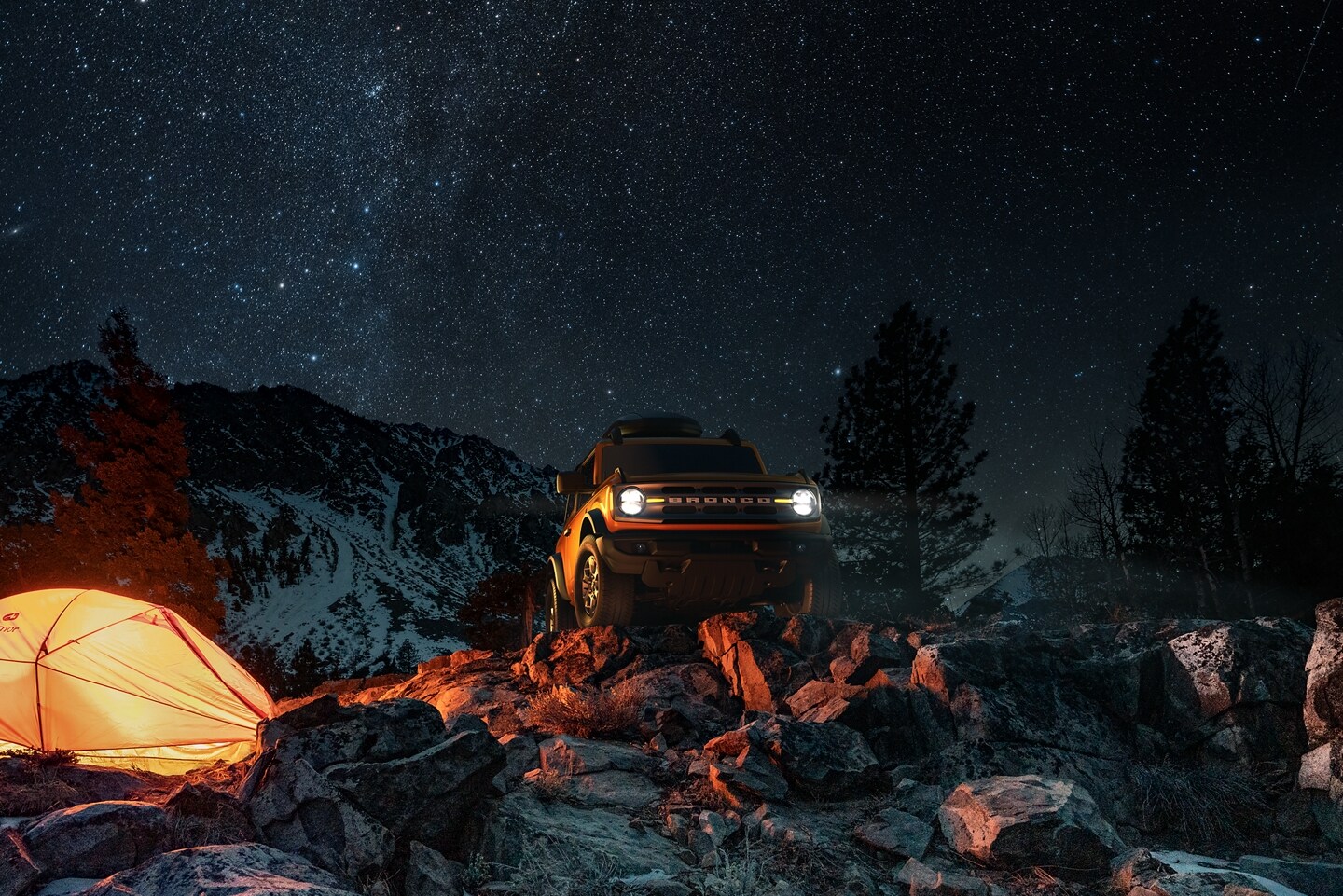 If you want to spice up the outward look of your Bronco Built Wild SUV, there are different accessories you can add to it to do so. Ford partnered with Bushwacker to make removable steel fender flares, extend style fender flares, and pocket-style fender flares.
The Sasquatch package also includes the Large Wheelarch Molding Kit accessory. The Fender Flares accessories are designed just for your Ford Bronco, while the Steel Full Body Bash Plates are ideal for intense off-roading.
Air Design also partnered with Ford to create some accessories like the Hood Scoop and Door Molding Kit. Other accessories include the Ford Performance License Plate Frames, Soft Tonneau Cover, Heavy-Duty Roof Panel, and Heavy-Duty Door Storage Bags.
For the rear area of your Bronco, there are spare tire covers and trail armors created in partnership with Lund. You can also purchase hood protectors, paint protection package, retractable Sunrider and trektop and soft mesh Bimini sunshades. You can also ask for custom graphics if you want a personalized Bronco.
Interior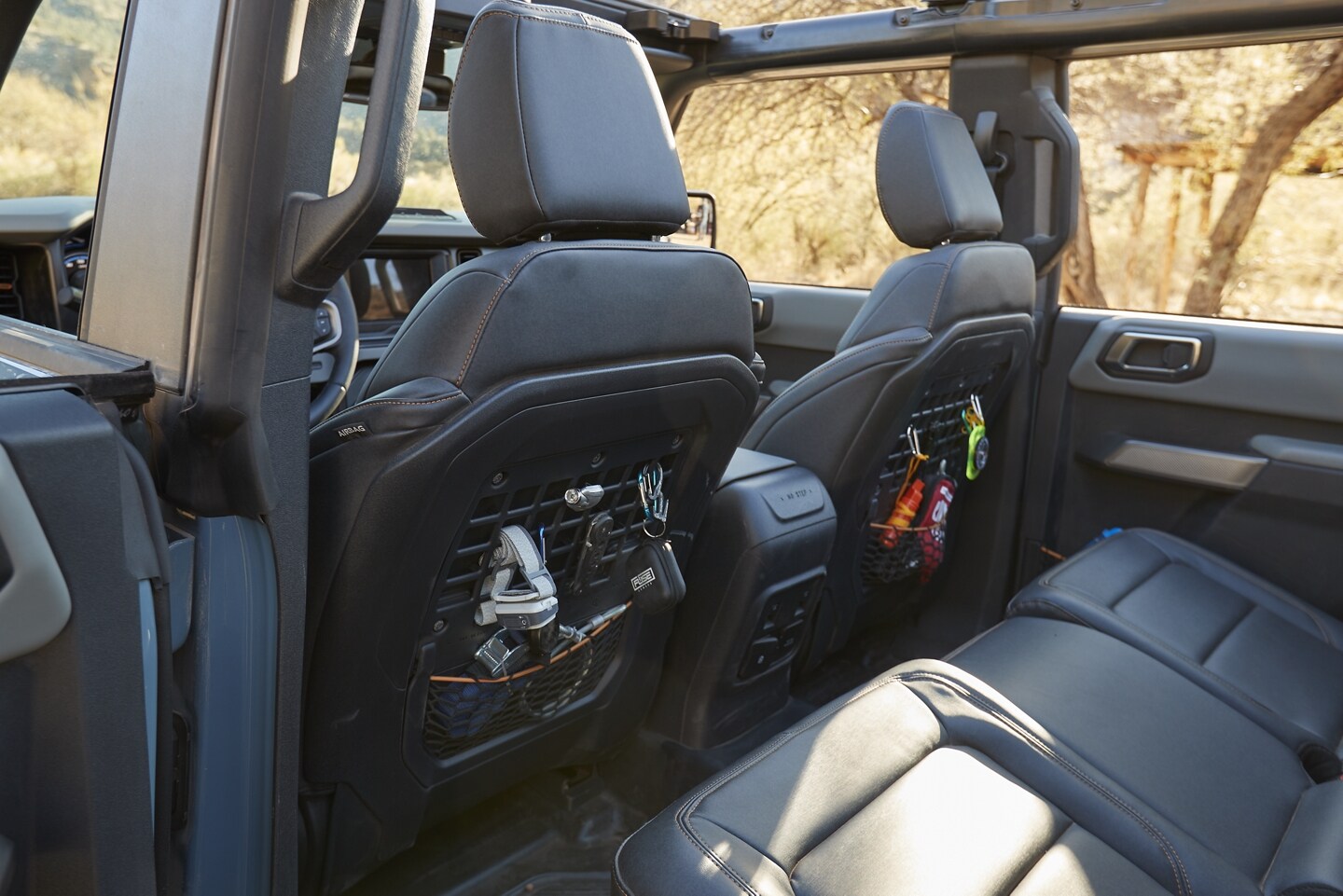 For a gorgeous inside of your Bronco Built Wild SUV, you can add different accessories to make it feel more like home. These include the smoker's pack, cargo organizer, and console vaults. There is also the Zero Single Zone Fridge, portable mini-fridge, and soft cargo organizer. You will also see bags, straps, and grate systems from Molle.
If you have a pet, you can add accessories for them like barriers, harnesses, and a kennel. Other accessories include windshield sunscreen, door sill plates, door sill plates, and floor liners. If you're planning many off-road trips, there are different kits for on-road, off-road, and first aid that you can purchase.
You can purchase seat covers too and many other accessories for your Bronco interior.
Wheels
For a better off-roading experience, you can add more accessories to your wheels. They include a wheel lock kit, the Ford Performance Off-road/Track Air Compressor kit, Black Lug Nut, machined face wheels, and bead lock wheel trim ring kits.
Racks and Carriers
For those who want to go on exciting off-roading adventures, especially with your bikes and tents, this section is ideal for you. These include bike carriers, crossbar kits, rack-mounted bike carriers, and others, all created in collaboration with Yakima.
Final Thoughts
You can create your dream off-roading SUV with all of Fords' accessories. These leading car manufacturers know the importance of accessories, and so they managed to offer a long list of them. All enthusiasts that are on the lookout for the Bronco Built Wild can also check out these accessories and choose the one that goes well with their needs.