In this article, we're bringing you a walk-around of the awesome two-door Black Diamond Bronco. It is Sasquatch, two-door, and it has the Bestop fastback soft top which is pretty cool.
Outside Bronco Black Diamond
Starting upfront, there is a carbonized gray molding color or mick grill with the Oxford white Bronco letters and standard headlights. These are LED headlights with an amber turn signal and accent bar. The heavy-duty modular front bumper is standard on the Black Diamond. In addition, there are the full vehicle steel bash plates. Because this is Sasquatch, you will get the 47 rear axle ratio.
Coming around to the side, there are wider removable fender flares. You will get 35-inch tires and 17-inch bead-lock capable wheels. The standard wheel and tire options are different — a 17-inch black steely wheel design and they're painted in gloss black.
Moving down the side of the vehicle, as with all Broncos, there are cowl-mounted mirrors with the blind-spot monitoring information system. And the benefit of having these is that if you remove the doors your mirrors remain intact. Just because you're losing the door for a little bit more open-air you're not losing the safety of your rearview mirrors. The vehicle also has rock rails.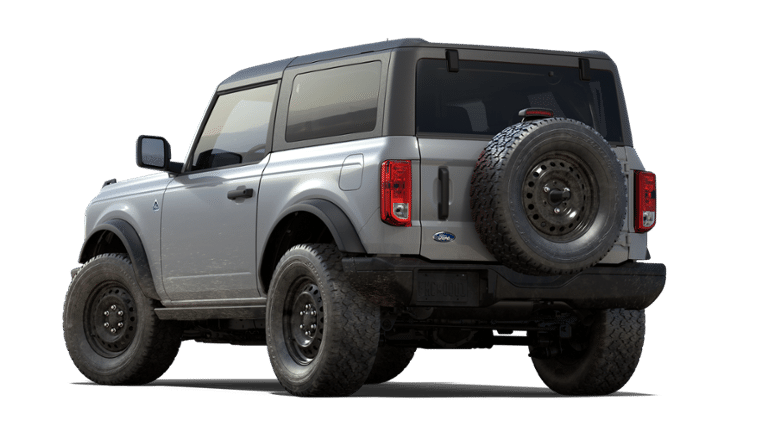 This Bronco has intelligent keyless access, so if you have the key in your hand or your pocket you can simply place your hand right on the door handle and it will unlock. There is also a lock button so if you're exiting the vehicle and don't want to push the lock button you can just tap the little lock icon right and you are good to go. Of course, in case the battery dies or you need to get in manually you have a keyhole with the key that pops out of your Bronco key.
The fender flares are removable: you just have quarter-turn locks right under the fenders. This is another way Ford has incorporated modularity and it's one of those things where if you're out on the trail and you bash it they're easily swappable and easily replaceable.
Like the handles on the side doors, the tailgate handle is intelligent keyless access as well. There are the standard halogen style tail lamps. They're not the upgraded LED ones but they still look nice with the c-clamp design.
Moving on to the back storage area, it's a little bit limited as far as capacity goes. Nonetheless, you could still fit a few carry-on-sized suitcases and if you fold these two rear seats down you could fit bigger items. There are four lasso attachments at the back. And there is a small under-storage place with an emergency kit with a jack and fuel fill.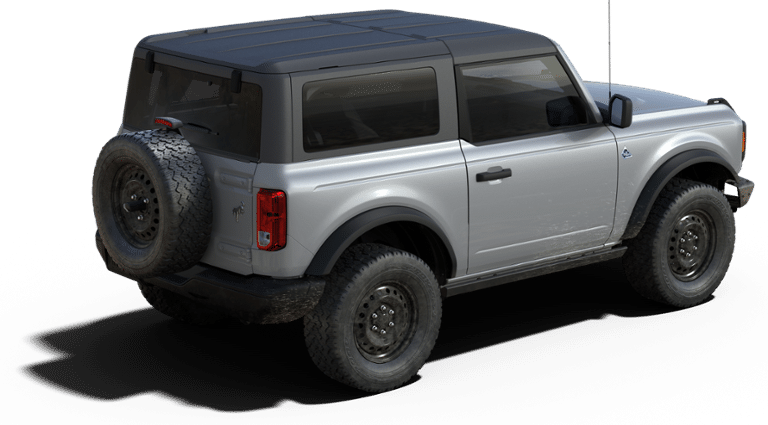 Folding up the top is pretty easy: you just give it a little tug and points on the side come out of the little brackets, give both sides a little bit of a pull and it just folds up. To fold down the rear seats you need to pull the tab on the right and the left, the headrest will drop, and then you can push the seat forward. There is one more step: the seat cushion in the front has to be pulled out and angled up so the seats can go flat. Once you put those bottom cushions up you can again take a little loop and pull it all the way back and the seat drops. Both of the seats have child seat attachment points. So, in this area, you will have a decent storage place if you fold both seats.
At the back, there are attachments for both the electronics for the hardtop backglass for the defroster and the washer fluid point as well. On Broncos that come with the hardtop, you will have these attachments. In the cargo area, there is also a 12-volt outlet and a cargo area light, and one more reading light in the crossbar for the rear seat passengers.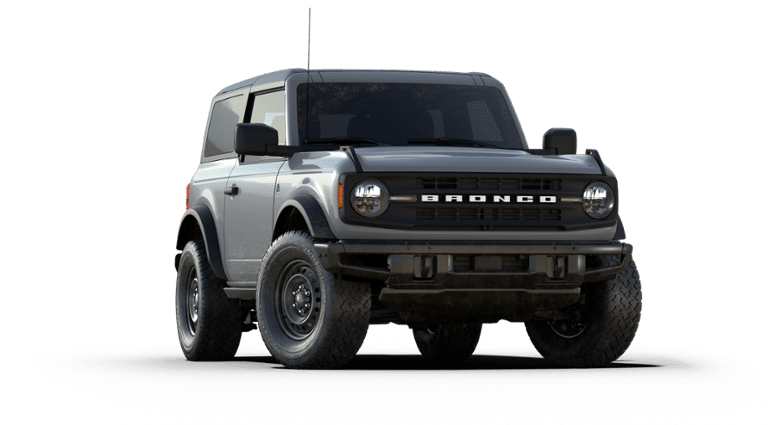 Last but not least, back in this area is the tailgate. There is an accessory-ready panel for a whole host of accessories that Ford approved. And, of course, as with all Broncos, this can not only stop at 90 but it can also go all the way up to 150 degrees.
Getting in the back of this two-door Bronco is quite simple. You need to pull this latch on the back part of the seat, tilt it forward, and then push it to slide. Then you can climb back. It is a pretty comfortable place to be. There are molly grids and little cargo nets back there. The seating position, the bottom of the seat is higher, kind of a stadium seating compared to the front seats, which gives you a nice vantage point.
The Interior Details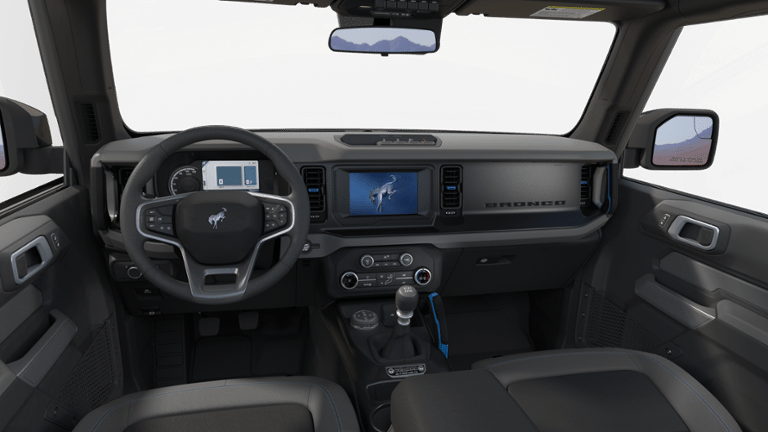 The Black Diamond comes with the marine-grade vinyl seats: these are two-tone — they kind of have a light heathered gray and then a dark more of a space gray. And they're accented nicely with grabber blue stitching, which you're also going to see tied into the grab handles. It brings the whole interior together. It also comes with the TPU washout floors.
The two-door has a one-to-one cup holder to passenger ratio. All two-doors come with manual seats for ease of entry and exit into the back seats. In addition to the marine-grade vinyl seats, you're also going to have a vinyl wrap center console and a vinyl wrapped armrest on your door. Those are high touch points, high wear and tear areas and so putting the vinyl on here just makes it a little bit more durable. The center console is lockable and right below there are window switches. To the right of the window switches, there are side mirror controls that are encased in a weatherized rubber and they are electronically adjustable although they are not powerful mirrors.
Speaking about goat mode style, because this is Sasquatch you are going to have two high, four high, four low, and four auto. For goat modes you're going to start in normal mode, you also have an eco mode for the eco-conscious Bronco driver, you're going to have sport mode, slippery, mud and ruts, sand, and of course rock crawl.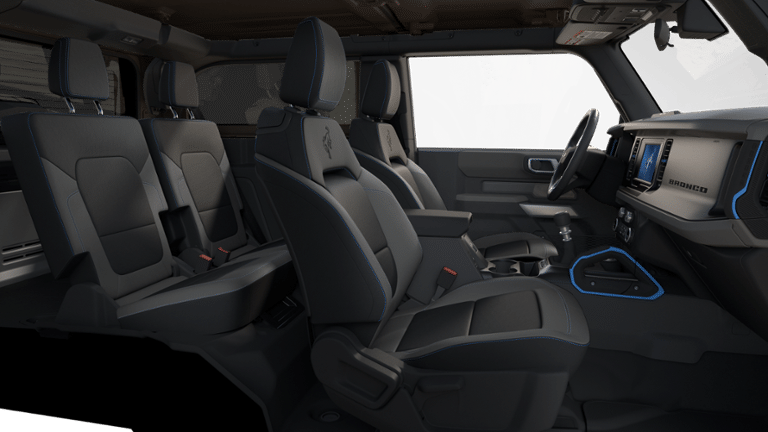 The Black Diamond comes available with both the 2.3 and the 2.7-liter engine options, the 2.3 being a four-cylinder and the 2.7 being a v6. There is no wireless charger but there is a USB port with both USB A and USB C ports to charge your devices. There are dual-zone climate control and infotainment buttons. There are heated seats for both of your front passengers. The infotainment control has wireless Apple Carplay and it is running sync 4 on an 8-inch touchscreen. The Black Diamond is not available with the larger 12-inch screen.
There are, of course, hero switches. From left to right, there is the front locker, rear locker, trail turn assist, traction control off and hazard button. Coming on up, there is an area up where 'the bring your own device' rail would go which will be available aftermarket. There is also an auto-dimming mirror and map lights or reading lights. And there are six auxiliary switches as well. The visors are lighted, they tilt and slide. There are also little mesh bags or mesh pockets on both sides where you can store paperwork, license, registration, maps, or something that's easily accessible to the driver and the passenger right above their head.
Once the soft top is unlatched it is easier to open it with two people but it is possible to do with one person. Then the whole cabin is open both to the front and rear passengers for that nice open-air feeling.
So, this is the walk-around of 2021 Black Diamond Bronco, which is a great vehicle for the off-roading and can have many ad-on accessories both from Ford and and other aftermarket manufacturers.