Ford F-150 is a rear- or all-wheel drive full-size pickup truck. It is a legendary vehicle for all occasions, the main target audience of which is, first of all, farmers and lovers of outdoor activities/tourism. American trucks of the F-Series appeared in the Ford model range back in 1948, and the F-150 modification appeared in their sixth generation — the 70s of the XX century. Starting with the ninth generation these pickups became a separate model. Now, it is the world sales leader in its segment.
History
The full-size pickup truck Ford F-150 of the first generation was presented to the public in 1991. The car had spacious interior and powerful technical characteristics, which the American public fell in love with. Ford F-150 was available with three cab types — single, one-and-a-half, or double. Depending on the modification, the total length of the car varied from 4930 to 5898 mm, and the width and height were the same in all cases — 2007 mm and 1882 mm, respectively. The first generation Ford F-150 had an atmospheric gasoline engine with a volume of 4.2 liters, 202 hp at 4800 rpm, and 342 Nm of torque. There was a 5-speed manual or 4-speed automatic transmission, rear or four-wheel drive. The car was equipped with ventilated disc brakes at the front and a drum at the rear with an anti-lock braking system (ABS). The advantages of the truck were an impressive appearance, a spacious interior, a powerful engine, large carrying capacity, and good equipment. The disadvantages were poor geometric cross-country ability due to large dimensions, high fuel consumption, and a large turning radius.
The second generation of Ford F-150 entered mass production in 1996. In terms of appearance, it looked a lot like the first one. A wide range of atmospheric gasoline units was offered: V6 with a volume of 4.2 liters, 203 hp, and 342 Nm of torque, V8 engines of 4.6-5.4 liters, producing from 231 to 310 hp and from 370 to 495 Nm of torque, a 5.4-liter V8 was also installed on the pickup, with 360 to 380 hp and 596 to 610 Nm of torque. The advantages of the second-generation Ford F-150 were reliable and sturdy construction, high-performance engines, affordable cost, good carrying capacity, and a spacious interior.
In January 2003, at the motor show in Detroit, the official presentation of the full-size pickup truck F-150 of the third generation took place. F-150 of the third generation was a full-size frame pickup truck, available with three cab options — double, one-and-a-half, and single. For the pickup, six- and eight-cylinder units with a V-shaped configuration with a volume of 4.2-5.4 liters were available, producing from 202 to 304 hp and from 342 to 495 Nm of torque. The positive features of this pickup were reliability, ease of maintenance, solid appearance, good cross-country ability, comfortable and roomy interior, and powerful engines.
Debuting at the 2008 North American motor show in Detroit, the next Ford F-150 was more of a redesigned previous version than an entirely new car. The new car had more restrained even forms and right angles, massive fenders and bumpers, new optics, and a modified radiator grille with clearly visible three stripes.
Modern Ford F-150
In January 2014, at the North American motor show, the next, thirteenth generation of Ford F-150 was presented. The vehicle surpassed its predecessor in all aspects. It received a brutal appearance, progressive technology, powerful gasoline engines, and a variety of equipment. In the summer of 2016, the manufacturer carried out an upgrade of the vehicle giving it a new engine and a 10-speed automatic transmission. The exterior of the new Ford F-150 is quite distinctive, easily recognizable, and original. The new Ford F-150 has become noticeably more brutal, more serious, more massive, and more aggressive. At the same time, the body contours are well thought out, all elements logically complement each other, and the original lighting technology and stylish radiator grille give the new pickup a special zest.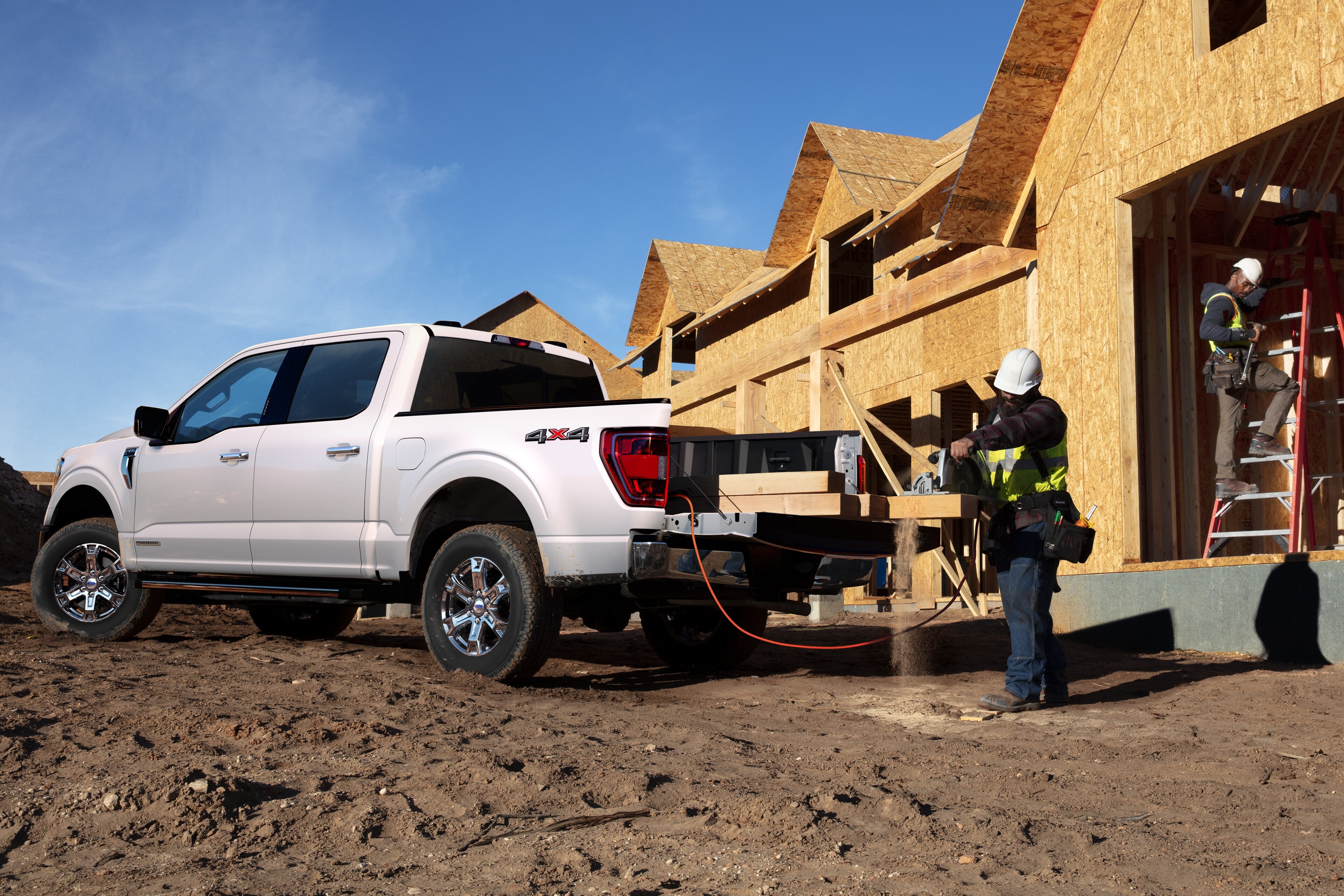 There are also technical innovations. The radiator grille is now equipped with an advanced aerodynamic louver system that closes at high speed to reduce resistance to oncoming air currents and thereby reduces fuel consumption. In the rear part of the body, there is a technological board that facilitates the loading of goods, a new generation towing hitch, as well as loading ramps integrated into the body structure. The pickup is available in three cab options: single Regular Cab, one-and-a-half SuperCab, and double SuperCrew.
Interior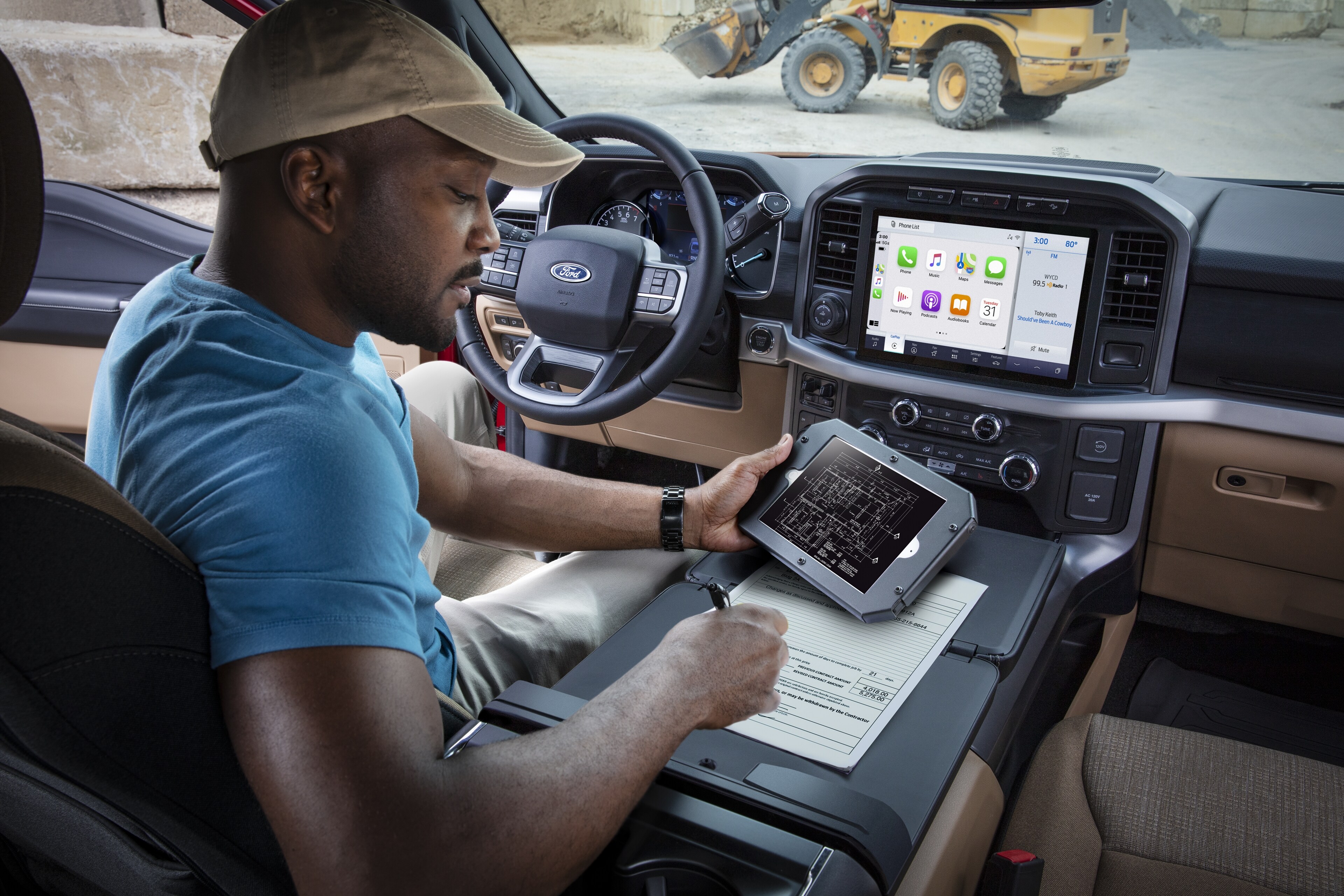 The new generation Ford F-150 has also changed inside. In addition to new trim materials, it has a redesigned front panel with a huge display on the dashboard, futuristic contours, and advanced ergonomics to make it easy to operate even for a beginner. The front part of the salon is equipped with comfortable seats with large adjustment ranges. The rear seats depend on the type of cabin they either do not exist at all, or they are represented by a two-seater couch in the SuperCab version or a full-fledged couch in the SuperCrew version. The vehicle can have a large 8-inch screen of the infotainment system or a huge 12-inch screen, depending on the modification.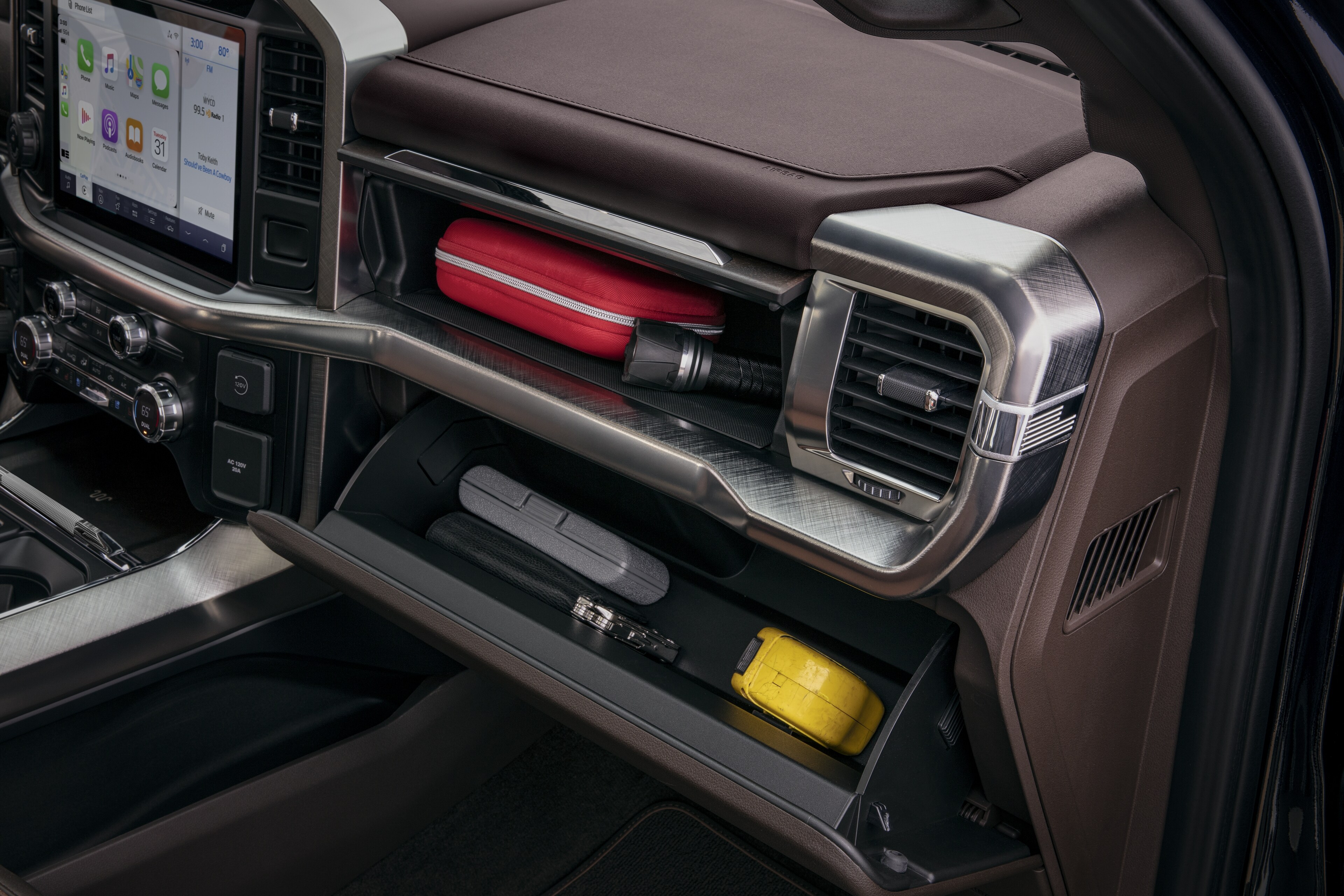 Technical Characteristics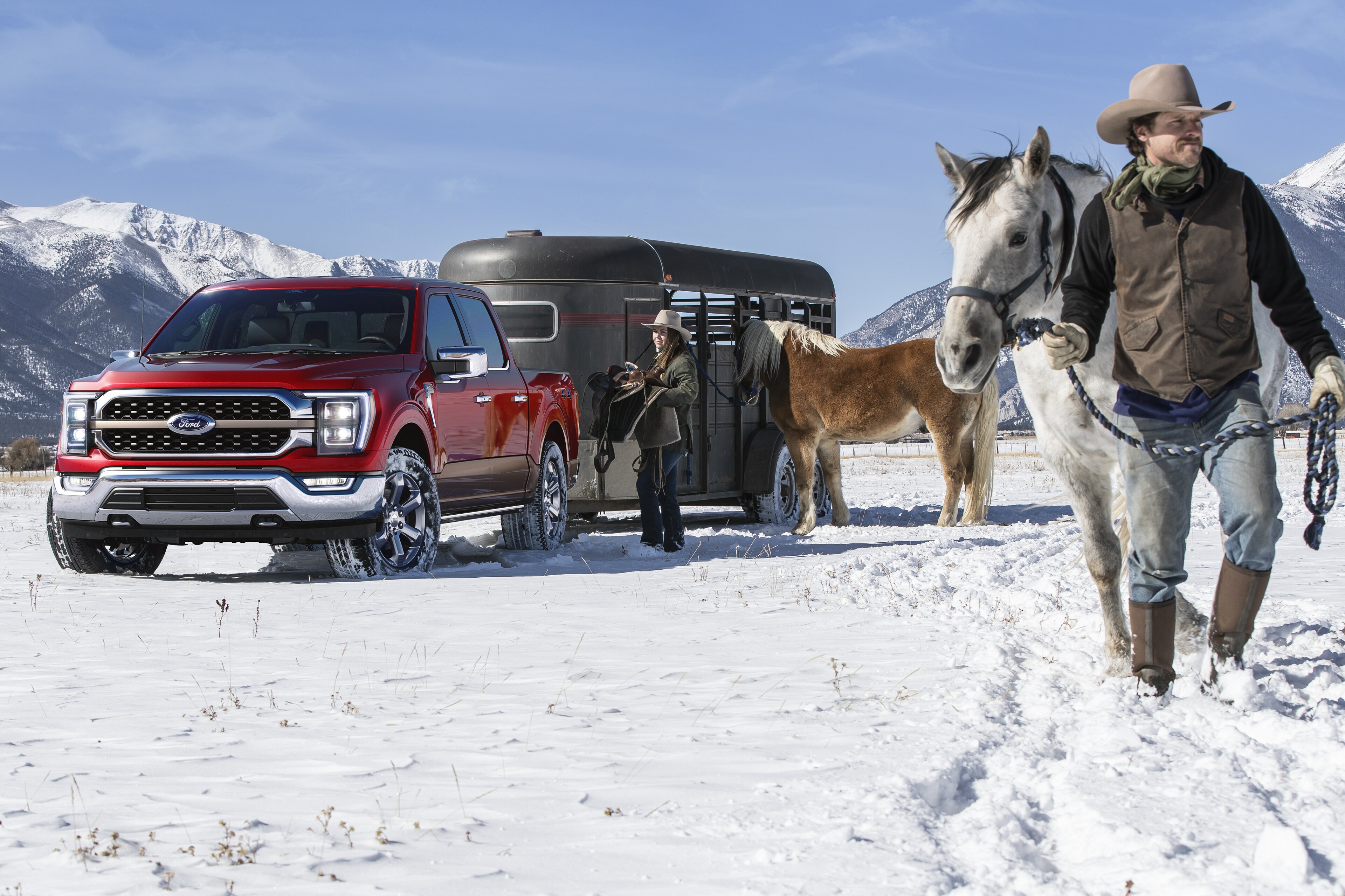 The thirteenth generation of the Ford F-150 has four petrol engines and exclusively automatic transmissions. The basic version of an engine is an atmospheric 3.5-liter V6 Cyclone with 24-valve timing and direct injection, 287 horsepower at 6250 rpm, and 346 Nm of peak torque at 4250 rpm. The vehicle can also have a full hybrid V6 engine with 430 hp or a V6 EcoBoost with 10-speed transmission and 400 hp. There is also a 5.0-liter Coyote V8 engine, and lastly — a V6 EcoBoost 3.5-liter unit with two turbochargers, a combined power supply, and a start/stop system. The vehicle is based on a ladder-type frame consisting of 78% high-strength steel grades, and its body is completely made of aluminum. The front suspension of the car rests on A-arms, and a dependent structure is suspended from the springs at the rear. The truck is equipped with rack and pinion steering and electric power steering.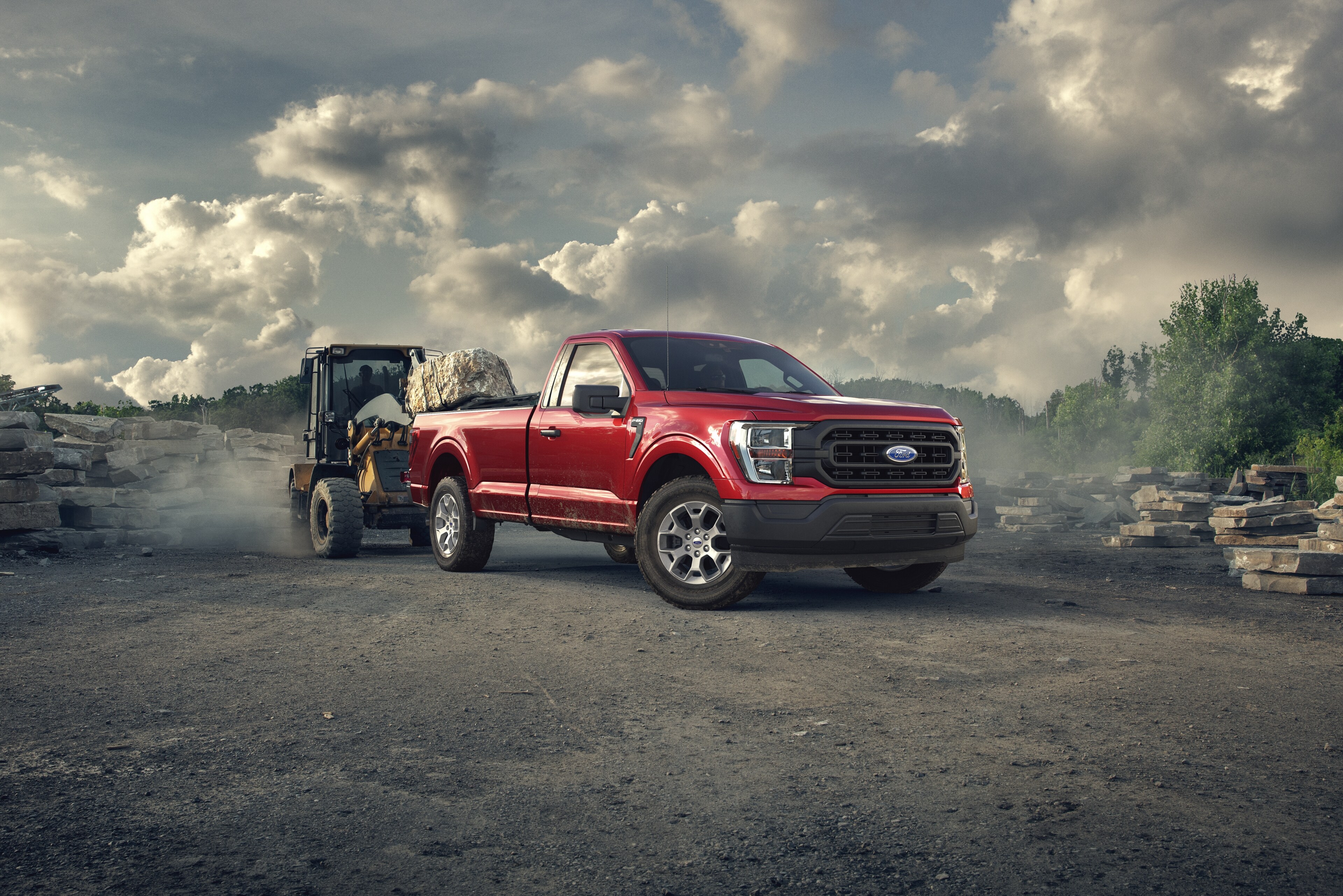 Why F-150 Is So Popular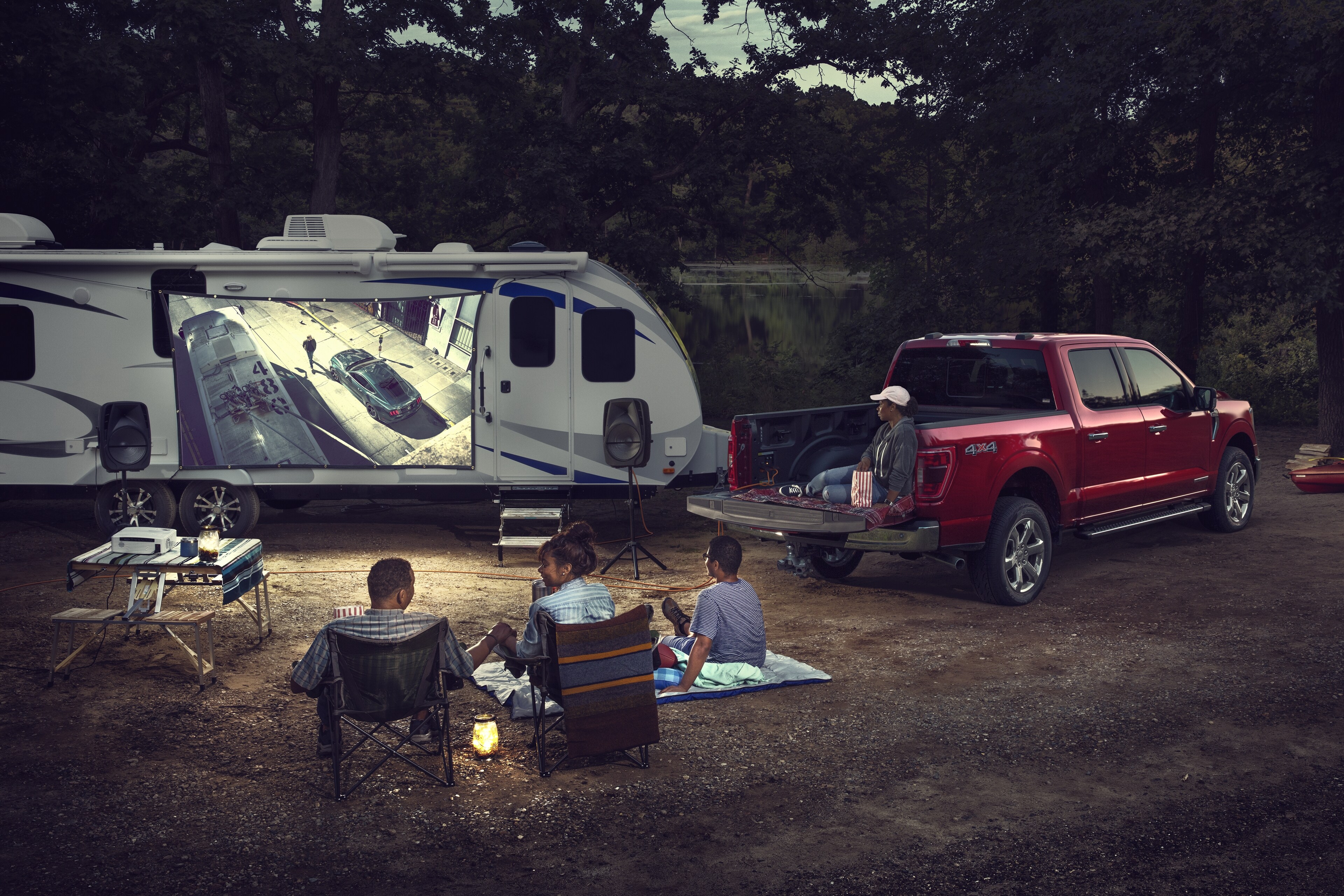 Obviously, Ford F-150 is the best-selling vehicle in the USA and it is one of the most popular trucks of all time. First of all, it is a relatively affordable pick-up truck comparing to competitors. Moreover, it is not expensive in repair and maintenance, and you can find spare parts whenever you need them. Secondly, F-150 is reliable and practical. Thirdly, it is getting better and better with every new generation. If you love this car you don't have to put up with old, far from perfect versions, you can buy a modern upgraded version with all the amenities of the new vehicles. There are many aftermarket parts available, so you can keep upgrading your car as much as you want. All this to say, if you want a modern reliable and spacious truck F-150 is the best choice.