Today we will discuss the 2021 Ford Ranger Tremor which is the off-road version of the Ford Ranger. This vehicle has some light off-road modifications but not some insane off-road mods like you would get in a Ranger Raptor.
Like all Ranger models sold in the US, it uses a 2.3-liter turbo four-cylinder with 270 horsepower. The Tremor off-road package is offered as an option on Ranger XLT and Lariat Supercrew models with four-wheel drive and it costs around $4300 extra bringing the base price for a Ranger Tremor to around $42 500 with shipping which makes this cheaper than a Toyota Tacoma TRD Pro. The Ranger Tremor adds some nice off-road upgrades of locking rear differential, lifted suspension, beefier off-roading tires, and more.
Quirks and Features
Let's start with tires. The Tremor has a more aggressive off-road tire compared to the standard Ranger but it isn't quite as aggressive as the one on the F-150 Raptor. And that means better performance on the road from this tire compared to the Raptor, less tire noise but it also means less off-road capabilities. The same deal is with the suspension. This truck has some suspension upgrades — beefed upfront control arms, fox shocks, and a lift but it's only about a one-inch suspension lift compared to the standard Ranger. This truck has just under 10 inches of ground clearance. There are some other off-road upgrades out here. For one, there are metal skid plates in this truck under the front bumper. There are also side steps that are fixed on the side which give the vehicle a beefy look.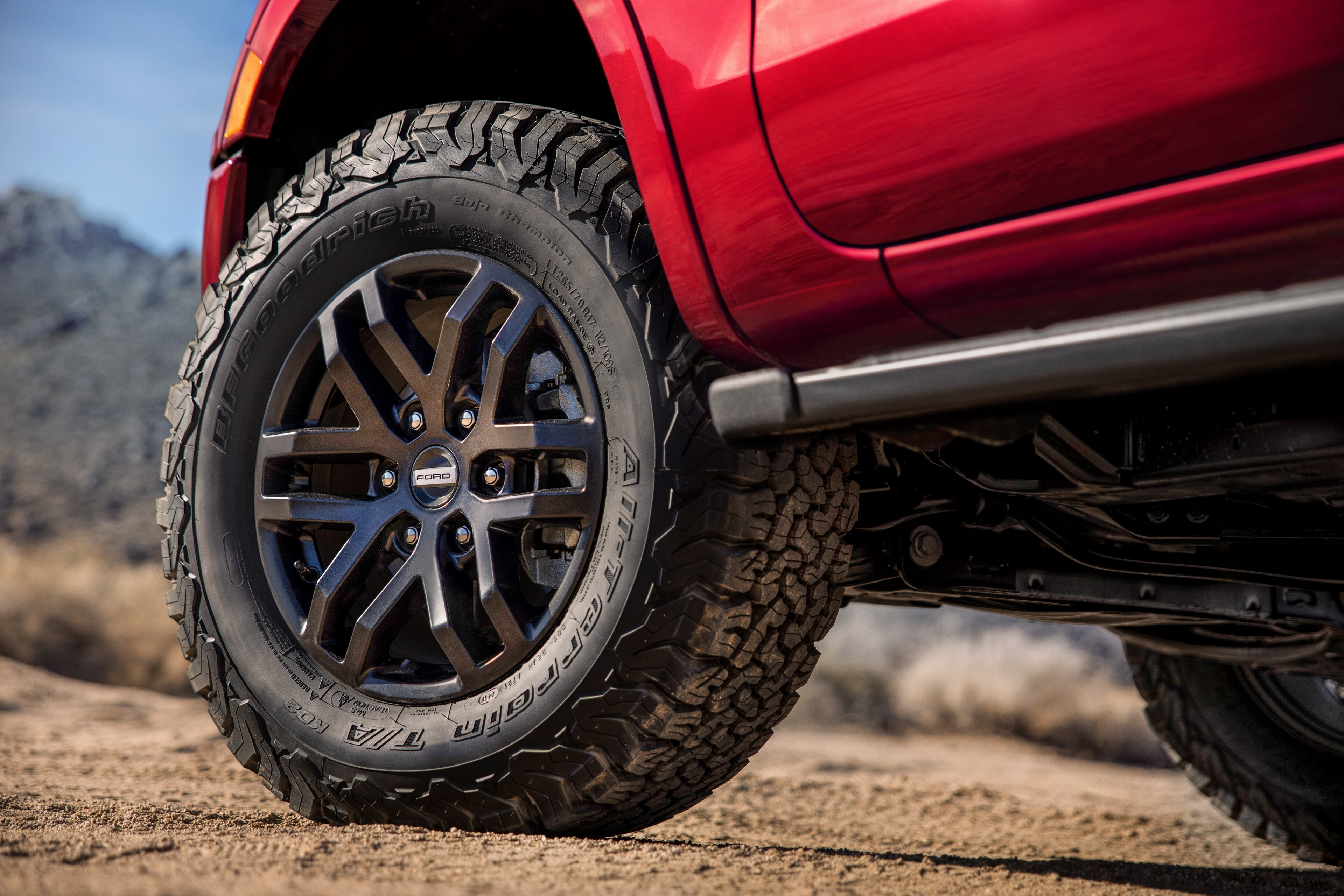 Inside the Tremor, there are some more off-roader upgrades. For one thing, there is a locking rear differential which is always good for off-road driving for better performance off the pavement. There is also a set of auxiliary switches: there are six switches that are not hooked up to anything. But if you want to install a winch or some off-road driving lights this truck already comes pre-wired, there are switches that you can hook up.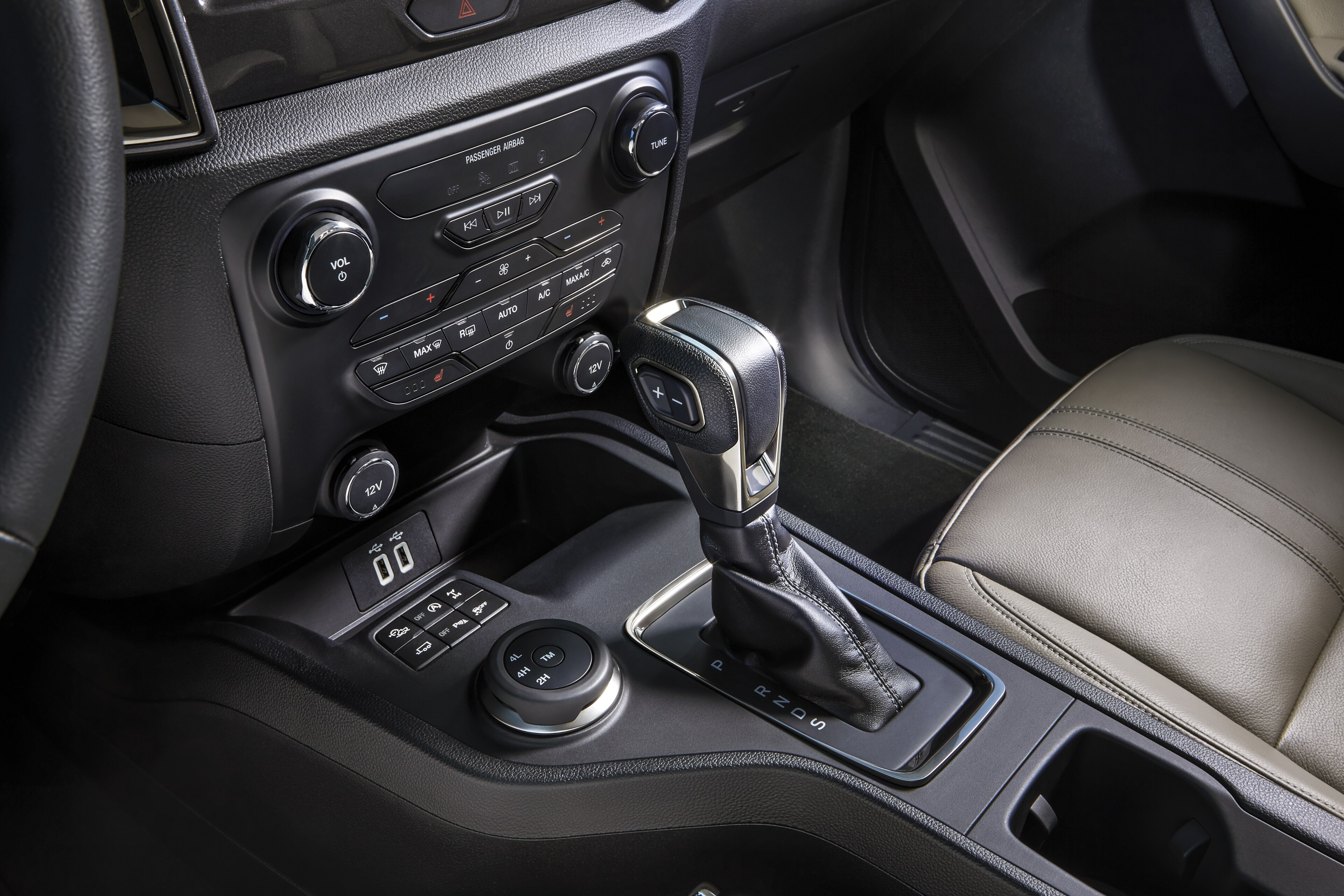 There are also some cosmetic upgrades in the Tremor model over the standard trucks. For instance, you have Tremor stitched into the front seats. There is also a Tremor badge on the rear on the outside of the bed. Also, the grille has little red accents on the sides. And that's one way to tell apart the Tremor from the other Ranger models.
This is a fairly basic midsize truck which is not intended to be quirky but there are some items worth noting. For one thing, there is a little dial in the center console that you can twist to go into four-wheel drive. In the center it says TM, which stands for 'terrain modes' and it will let you cycle through the different terrain modes that are offered in this vehicle depending on what type of terrains you're traversing. And you cycle through them on the little screen in the gauge cluster.
Speaking of the gauge cluster screen it also has a tachometer. There is also the speedometer in the middle and over on the other side, there is another little screen that shows navigation information, media you're playing, your phone, etc. There is also a center screen like in all vehicles. There is Ford's latest sync system which is pretty responsive, intuitive, and very well refined over the years.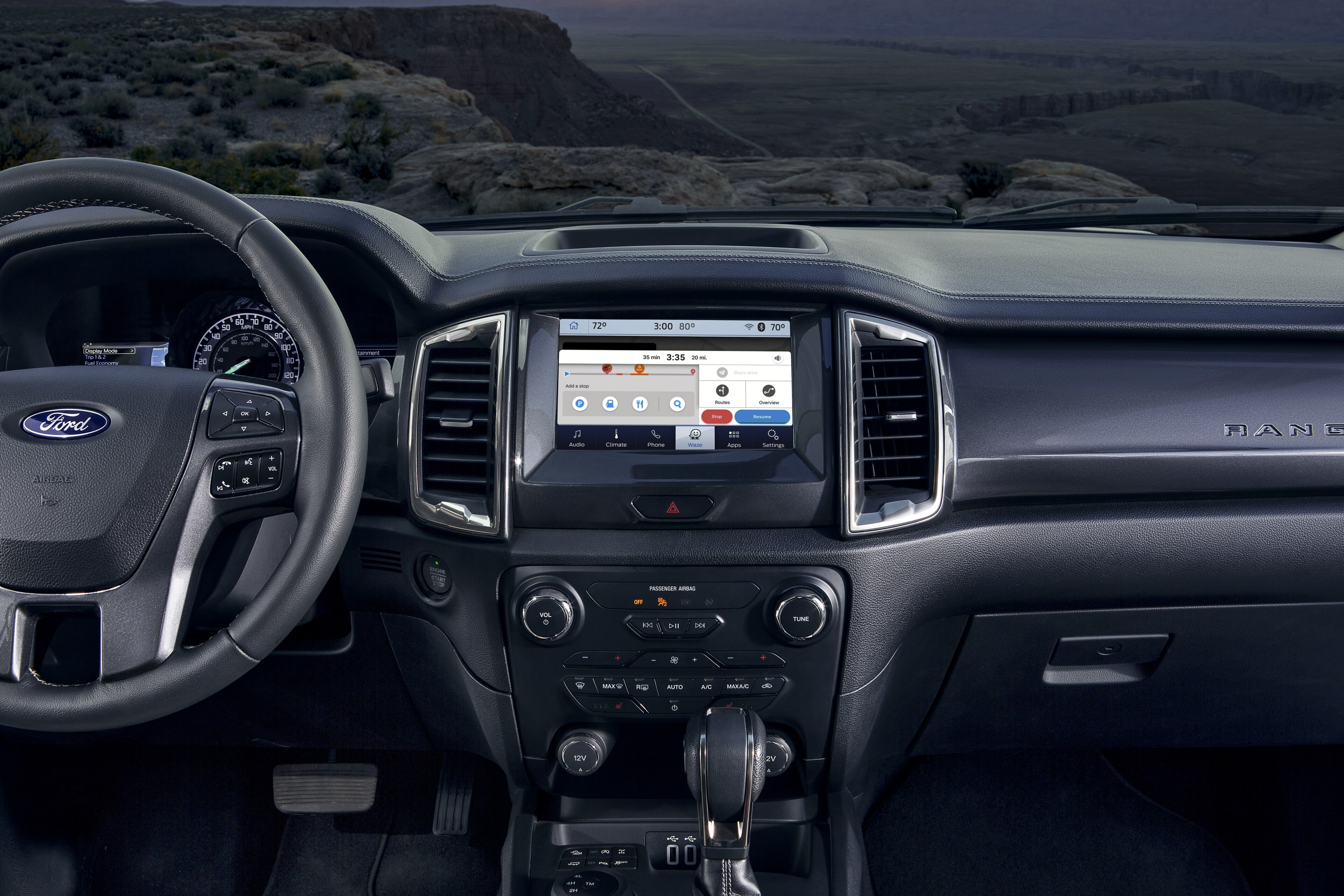 The Tremor is only offered with the full-size four-door body style of the Ford Ranger. Ford calls it the super crew configuration. The backseat is not huge. There is nothing especially unusual here although it is worth noting that there is a household-style power outlet behind the little cover which is really nice to have and a couple of USB ports.
Moving outside the Ranger Tremor, we have to say the upgrades to the Tremor over the standard Ranger aren't all that significant. Most people won't even realize that this is the off-road model. However, the Ranger is a good-looking truck, but it is not particularly muscular looking.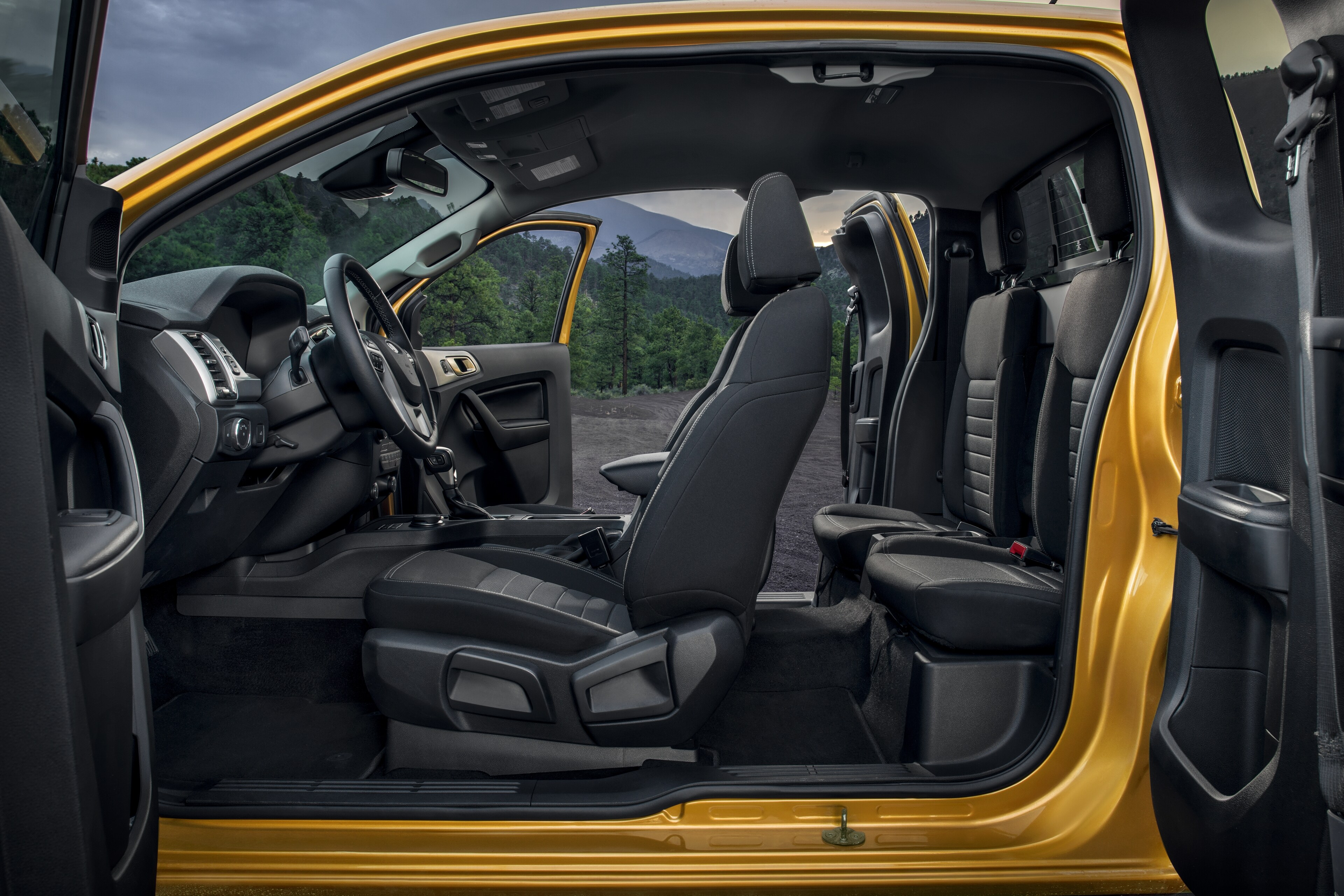 Even though this truck doesn't quite have the cool look of a real off-roader, there is one huge benefit: a 2.3-liter turbocharged four-cylinder. This is the best engine for any compact or mid-sized pickup truck. It feels great, there is great power and torque in all situations, good acceleration, great performance. And the engine alone gives this a little leg up over some of the other trucks even if the rest of the off-road stuff falls a little bit short.
On the Road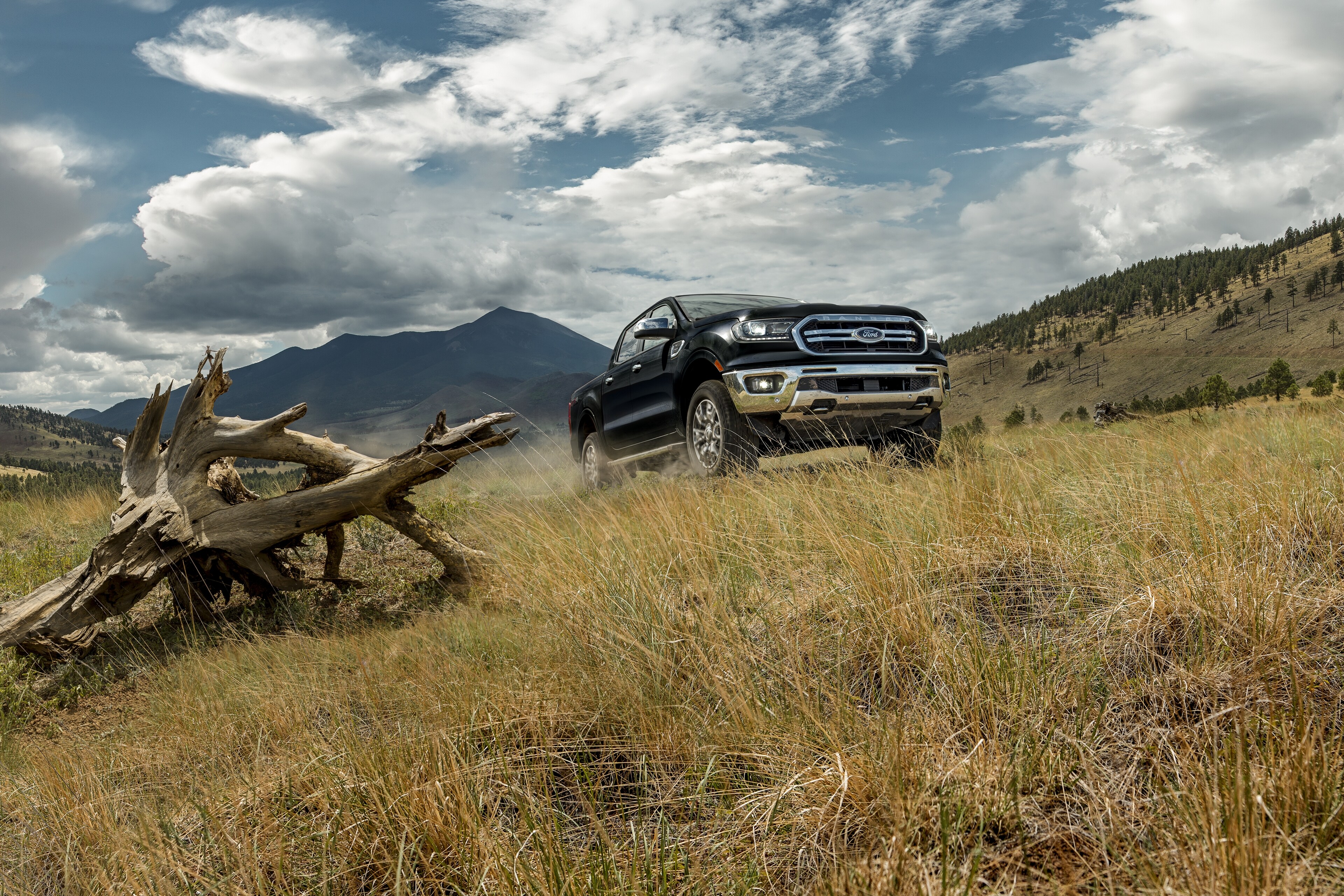 Driving the Ranger Tremor, it is a cool off-roader but it just doesn't quite get you where you want if you're looking for one of the off-road pickup trucks like the Tacoma TRD Pro and the Gladiator Rubicon. But the driving experience in this powertrain is impressive. It is far more responsive than the v6 that's in the Toyota Tacoma. This truck gives you a little better fuel economy, 10-speed auto seems to do pretty well.
There are a few drawbacks to this truck. The interior is not particularly exciting or interesting, or modern-looking. But this powertrain really does do a good job of accelerating this truck and moving it а forward. In terms of Tremor's specific driving experience points, it is not particularly different than the regular Ranger. The tire noise is good, pretty restrained, the ride quality is fine. But if you want real off-road capability from the truck you're probably going to want something a little bit more serious, and beefy built.