The Ford Bronco 2021 is finally on the market, and there is an extensive range of choices for all enthusiasts to pick from. The 2021 series comes with seven series, all offering amazing off-road capability, a feeling of nostalgia and impressive technology.
With the many trim lines, here is a review of the seven Ford Bronco 2021 vehicles so you can choose the one that is right for you.
The Bronco's Extensive Trim Options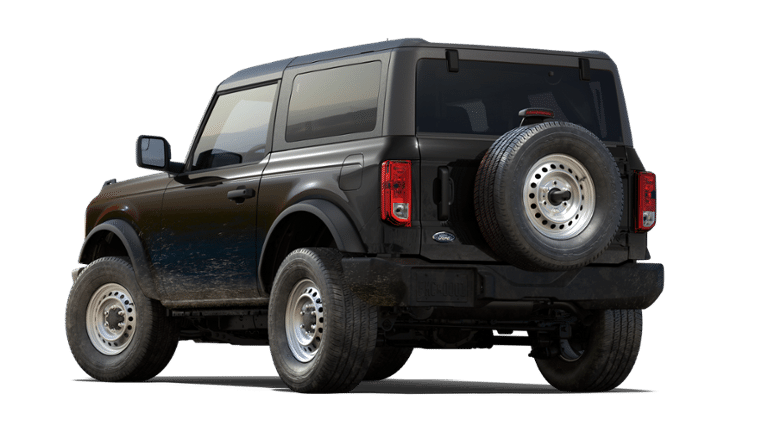 Ford generated a lot of hype for the 2021 Bronco series, which is probably why they allow their buyers to choose between seven unique trim lines. Each of the trim options has a different purpose, design, set of features and a unique name to match their features. They also have different costs and nameplates for all Bronco fans.
The cheapest trim line is the Bronco Base, and then the other choices include the Big Bend, Black Diamond, Outer Banks, WildTrak, Badlands and First Edition. Ford decided on clever names for the different trim lines, focusing on enthusiast's nostalgia. For instance, the Bronco Big Bend is based on the oldest surviving Bronco on display close to the Big Bend National Park.
What Do the Seven Bronco Trims Have to Offer?

The first vehicle is the Ford Bronco Base model, and although its name might not be fancy, the vehicle manages to stand out among others. It offers a simple design with no frills or special features – it's just a plain 4×4 SUV. It's also an ideal choice for those that want to customize their Bronco to the preferences they prefer.
The Base model has an affordable starting price of $34,000 for 4-door models and $29,000 for 2-door models. On the Base model, you have the standard engine and equipment like the 2.3-liter EcoBoost engine, 7-speed manual transmission, the four-wheel-drive system and five G.O.A.T. modes.
The vehicle also features cloth seating, 16-inch wheels fitted with all-season tires, and an 8.0-inch touchscreen. The manual transmission feature is on other trim levels along with the engine. But you can choose to go with the 2.7-liter EcoBoost engine and 10-speed automatic transmission as an alternate option. This is available on all trim lines except the WildTrak and First Edition.
The Bronco Big Bend is slightly more expensive, with better technology, comfort and convenience than the Base. It has a decent price of $34,000 and impressive off-road capability, ideal for those who want to spend a little more for better features. You will get additional features like a leather-wrapped steering wheel, LED fog lamps, privacy glass, six G.O.A.T. modes and 17-inch aluminium wheels.
$3000 more expensive than the Big Bend but with all that is offered in it, the Bronco Black Diamond is ideal for enthusiasts who are looking for more heavy-duty off-roading features. It has additional features to the Big Bend features like more colour choices, 17-inch steel wheels, steel rear bumper, heavy-duty bash plates and front bumper, rock rails, rubberized flooring and vinyl seats. It also has seven G.O.A.T. modes.
The Bronco Outer Banks also has all the features that the Big Bend has, but with a little more. It has a starting price of $40,000 and is perfect for enthusiasts that place style, design and comfort first, whether off-road or on-road. The car has heated front-row cloth seats, unique colour accenting, LED taillights and headlights, and 18-inch wheels. It also comes with the Mid package as the standard equipment. With this package, you can enjoy enhanced voice recognition, remote start, Co-Pilot360 safety suite and dual-zone climate control.
The WildTrak has gained the name, 'all-out desert runner.' It is well-known for being ideal for those who want to go for wild and intense off-road adventures. It comes standard with the 2.7-liter EcoBoost engine and 10-speed automatic transmission. The WildTrak has seven G.O.A.T. mode, an advanced 4×4 system and a hood graphic.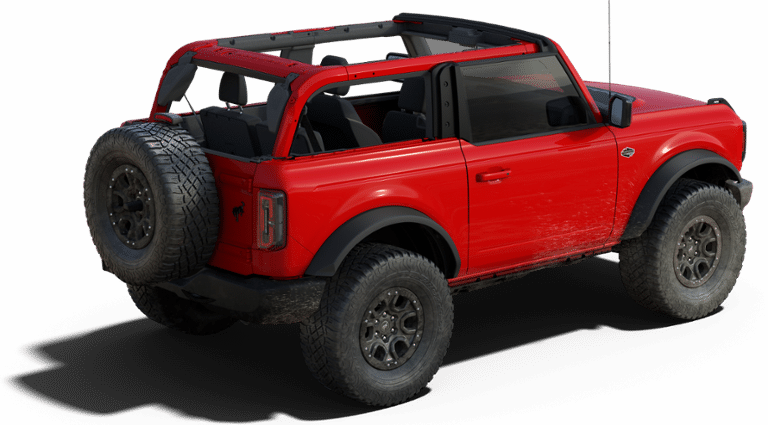 It costs $50,000 with the Mid and Sasquatch packages. With the latter, buyers get a high-clearance suspension, Trail Control, 35-inch mud-terrain tires and fender flares.
After the WildTrak, you get the Bronco Badlands, and this is perfect for buyers who want to do all things off-roading related. Its starting price is $43,000 and it has everything the Big Bend offers. But you also get seven G.O.A.T. modes, 33-inch all-terrain tires, heavy-duty front bumpers, 17-inch aluminium wheels, front stabilizer bar disconnect with a unique suspension and rubberized flooring.
Apart from the main trim lines, Ford added a special edition Bronco called the First Edition. Only 3,500 will be produced, and it has a starting price of $60,000. It comes with everything standard in the Badlands trim, plus unique graphics, leather interior and a black hardtop, with also the Sasquatch and Lux packages. Since it has the Lux Package, you get a wireless charging pad, 12-inch touchscreen and more.
Which Bronco Trim Line Has the Best Value?
There are no bad choices with the seven 2021 Ford Bronco trim lines, only that there are so many packages, features and price levels to select from. The First Edition model has all an enthusiastic off-roader might need, but it's also the most expensive.
Apart from the First Edition, the other Bronco trim lines have their different customer bases.
Base: For those looking for practicality and sticking to a low budget. Also, for those who want to customize their SUV as they please.
Big Bend: Ideal for those who want a capable SUV on and off the road, but not too expensive.
Black Diamond: Perfect for drivers who are looking for heavy-duty off-roading features.
Outer Banks: A good choice for drivers who prefer style, comfort and attractive designs.
WildTrak: For those who need a vehicle for intense and wild off-road adventures.
Badlands: Ideal for those who want to do all things off-roading related.
Whether you're a serious off-roader or you just need a practical 4×4 SUV, the 2021 Ford Bronco offers a wide range of trim options for all buyers. Regardless of the adventure that you want to take your vehicle to, you can find a Bronco that is right for you.